3 plant vendors to check out at monthly De Anza flea market
De Anza College hosted its monthly flea market on Saturday, Nov. 5, showcasing a wide variety of retailers selling unique goods, including three passionate plant vendors excited to be back following the pandemic. 
Leslie Chavez has been selling plants for eight years with her family. They first started selling at De Anza two years prior to the pandemic. 
"(My mom's) the one who pretty much started the business," Leslie Chavez said. "Ever since she was a teenager, she was always gardening. We started (selling) because she had way too many plants at home."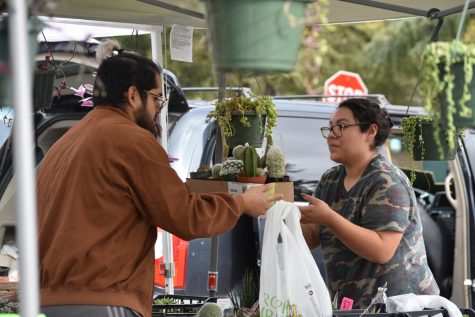 Selling mostly cactuses, fruit trees and house plants, Leslie Chavez's stand can be found at De Anza's monthly flea market and the Capitol flea market in San Jose. 
Leslie Chavez said she is thrilled to be back to selling plants in person at De Anza's flea market. 
"Here, you get to personally talk with other people," Leslie Chavez said. "It's kind of nice being able to give them recommendations on which (plants) would be best for their home." 
Ramona Bernardo is also a plant vendor returning following the pandemic and has sold several types of orchids and hanging plants at the flea market for five to six years.  
"It started out as a hobby," Bernardo said. "I'm not a professional, but I just fell in love with orchids."
Bernardo said she enjoys the challenge of growing orchids and grows all of her products in her own backyard. 
"For a beginner or somebody who's not familiar, try to go for a sturdy (orchid) that's easier to handle," Bernardo said. "They don't die as easily."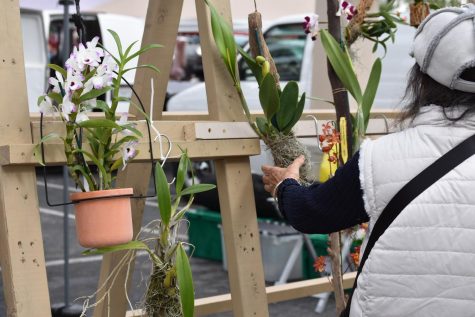 Her orchids are most popular among those wishing to give holiday or birthday gifts, and mentioned that most of the exotic orchids are from Hawai'i.
"Most people that come into this booth are in awe because they have never seen anything like this," Bernardo said.
She can be found on Instagram with the username "rcliveart" and contacted through email at [email protected]. 
Another flower vendor, Mitzi's Resale Flowers and Trees, has been selling its plants at De Anza for six years. 
Mitzi Basques runs the business side of operations, and said she and her family found out about De Anza's flea market through her time as ASB president at Gavilan College in Santa Clara. 
"When my sisters were younger, they would go out and kind of sell out of parking lots and stuff," Basques said. "We didn't know about flea markets like this at the time, so once we found out about free markets, that's where it kind of just started." 
Basques runs the business alongside her father, a gardener who founded the business around eight years ago. 
"(My dad) is a big garden person," Basques said. "Once (he) wanted to start his own business, we started little by little and now we're here."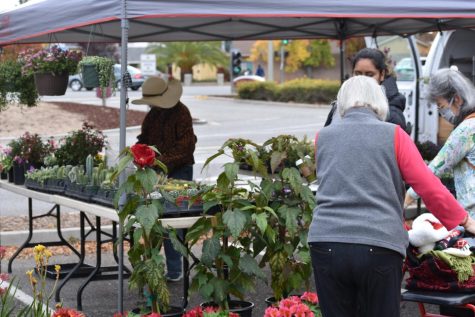 Their business sells both home-grown plants as well as plants from larger nurseries. They sell at both the monthly De Anza flea market and the Capitol flea market. They can also be found at their Morgan Hill location or on Facebook at Mitzi's Resale Flowers and Trees.
Basques most enjoys the familial aspect of the flea market and being able to see other vendors. 
"I like getting a connection with people and being able to see my dad talk about what he loves," Basques said. "There's a certain vibe, definitely."