De Anza's biweekly mobile food pantry
De Anza College hosts a biweekly mobile food pantry known as the "Park-It Market" on the second and fourth Tuesday of every month with various times and locations according to their calendar. 
The project is an initiative by West Valley Community Services, a non-profit agency that serves underprivileged individuals in the West Valley communities of Santa Clara County. The pantry runs from 1:30 p.m. to 3:30 p.m. in Parking Lot A and is available to all De Anza students who provide their student ID. 
The Park-It Market consists of a food truck which provides partial sustenance for students, elders, homeless and others at nine different locations within Santa Clara County. These spots include senior centers in Los Gatos and Saratoga, two community colleges and three elementary schools.
Donald Akimoto is the assistant manager of Mobile Operations for West Valley Community Services and has been involved in social work as well as the mental health field for the past 25 years.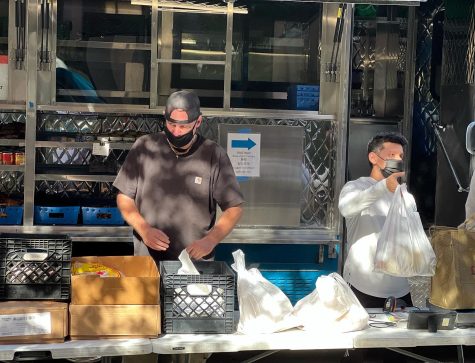 "West Valley community services has been in a partnership with De Anza," Akimoto said. "So what happened was that when we got the Park-It Market truck, about a year and a half ago, the school became one of our go-to spots."
Before the Part-it-Market truck came to be, the organization supported and continues supporting De Anza's food pantry. 
"We started bringing the truck here to provide students with a different experience," Akimoto said. "Rather than being given a bag of groceries and limited in their selection if they were to go to the school's pantry, we opened it up like a grocery store on wheels."
Akimoto said this method helps reduce the amount of waste and food thrown away, as students get to pick and choose what they want and leave whatever they don't. He said that while the experience can be rewarding, there is a stigma surrounding these services. 
"A lot of people are surprised as you don't typically see good-quality products being given away for free," Akimoto said. "If you're a student and or you live in the community, we're going to offer you some free food. It doesn't matter who you are."
Economics major Toussaint Luciano Andriamanana, 19, is an international student from Madagascar.
"I loved the experience because it helps international students like me," Andriamanana said. "Some fees are expensive and I have to save as much money as I can, so if I can get some free food, I'd be happy to." Andriamanana also said the school could do better promoting the program for everyone.
"I'm satisfied, but I didn't know about this program until a friend told me about it," Andriamanana said. "If you're a little bit late, they can run out quickly."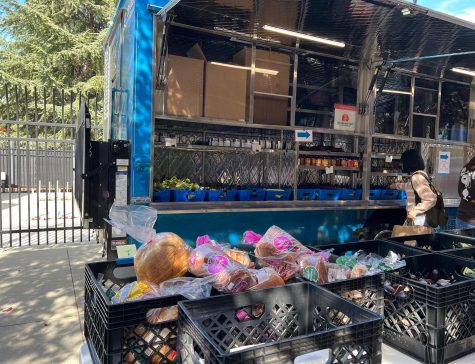 Biology major David Gonzales, 26, said he knew about the food pantry but said he has not felt the necessity for the services, preventing him from utilizing it in the past. 
"I feel that everybody should know about these services and not shy away from them," Gonzaless said. "I think some people are afraid to come to get food but I think this program is great. There's a lot of food and variety for anybody who wants some."
Jose Gallardo, 24, social work major at San Jose State University, is an intern at the Park-It Market and said he interns in hopes to gain experience in the field. He said that the schedule can sometimes prevent people from obtaining the services, but he's glad attendance is picking up this fall.
"Some students are not sure when we will come and others may be busy with schoolwork and class," Gallardo said. "They can always go to the West Valley Community Services headquarters or any other sites to get food."
The pantry's services are available to anyone living in the West Valley communities and a photo ID is needed upon arrival to confirm location eligibility. At De Anza, students need to show their school ID, which can be found on MyPortal.
"There's still some people who are discouraged from getting our food as they may think it's only for the less privileged or that they are above the food pantry," Akimoto said. "We make a conscious effort not to place judgment on people. Everybody has a different story.