Dance department adjusts to virtual learning, finds surprising benefits
As De Anza College adapts to online courses, faculty are exploring new ways to teach dance virtually — and finding unexpected advantages. 
"I've tried to figure out how to maximize the experience (of online learning) and take advantage of the different learning mediums available now that you wouldn't have in a physical classroom," said Janet Shaw, part-time ballet professor. 
The first step she took was to attend an online dance class herself. 
"I was glad I had that experience because I realized instantly what the challenge was as a student," Shaw said. 
She said she noticed problems with camera angles and internet connection, so she advised students to use hotspots if WiFi becomes unstable and has set up her camera at an appropriate distance. 
Maria Basile, another dance instructor, developed a different strategy: using three cameras.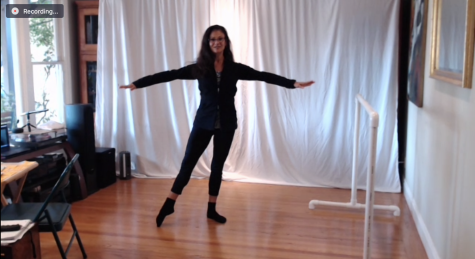 "I have three different views I have students look at … global, small, and desk view," Basile said. "[Students] are not choosing where to see, but I'm choosing where to look and what to see for them, which was a dream come true."
In her ballroom dance class, Basile said she mostly uses line patterns that do not require a partner and found that it has enhanced their understanding of the motions.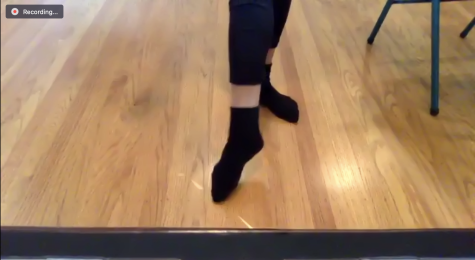 "Because I'm breaking it down and focusing the camera on this part and that part, everyone in my class understands that movement, whereas before only a handful did," Basile said. "It's been a pleasant surprise with ballroom dance."
If these classes had been physical, some students would not have been able to attend, Basile and Shaw said. 
"Every time you make a new format, you make it possible for more students to study," Shaw said.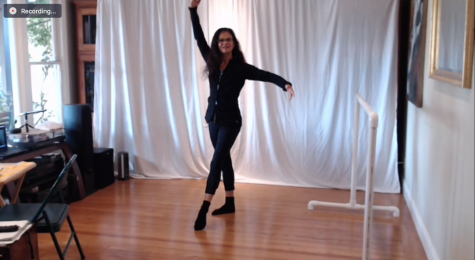 Vernon Gallegos, a dance and theatre instructor, also said he found student benefits in the online format.
"In life, we're often in a hurry, rushing from one place to the next, and online technology helps us slow down," he said. "But it doesn't alleviate or diminish the level of teaching or communication." 
Still, online dance classes have their limitations. 
"The art form has three components: energy, space, time," Shaw said. "And it's been a challenge not having free use of space, because some students are restricted to bedrooms, so legs will kick furniture." 
Virtual dance courses also may not be able to replicate the final performance, which students were not able to have in the spring quarter.
"In dance and theatre, you are working towards performing for that audience, so it was understandably upsetting to be unable to have that," Gallegos said.
Despite these handicaps, professors said they found a positive student response. 
"Students need to exercise and move during this time," said Basile. "I heard many times from students that it's really stabilizing their emotional demeanor and how they cope with the rest of their life."
Dance instructors are encouraging enrollment for the winter quarter. De Anza is offering eight virtual dance classes, including ballet, hip-hop and body awareness and conditioning. 
"With dance, you get to speak with every part of you," Shaw said. "I think that makes it feel very complete."