Vertical garden makes new life from the discarded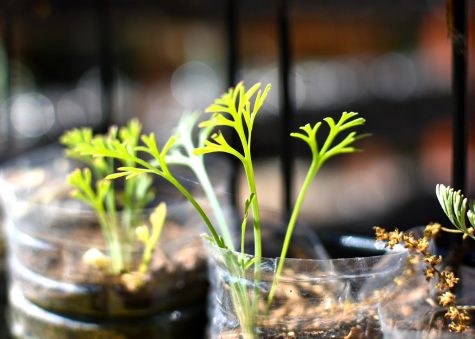 Tucked away in the back garden of the De Anza College Kirsch Center stands a wooden box holding soil-filled plastic water bottles. These bottles compose a vertical garden, although only a few native wildflowers grow out of them.
"We don't use any pesticides or chemicals or anything," said Mehran Karimi, lab technician at the Kirsch Center. "All we use are organic soil and manure."
Karimi, who participated in the environmental studies program in 2014, said he and his friend Nic Kasperee wanted to start a vertical garden in the Kirsch Center after studying the garden's impact and usage in major cities.
The two applied for the DASB Environmental Sustainability Committee Eco Fund, which provided the bottles that hold the garden's wildflowers.
As part of their campaign for the Eco Fund, Karimi and Kasperee visited classrooms and shared garden concept with students.
Karimi said they wanted to promote the message that "not everything recycled is upcycled," and that they wanted the garden to be a positive example of how recyclable items can be used for a better purpose.
The garden was officially completed in 2017. Karimi said he hopes to incorporate succulents in to the garden, along with other drought-friendly plants.