FOOD TRUCKS ON CAMPUS

2

min read
Moveable Feast brings good food to De Anza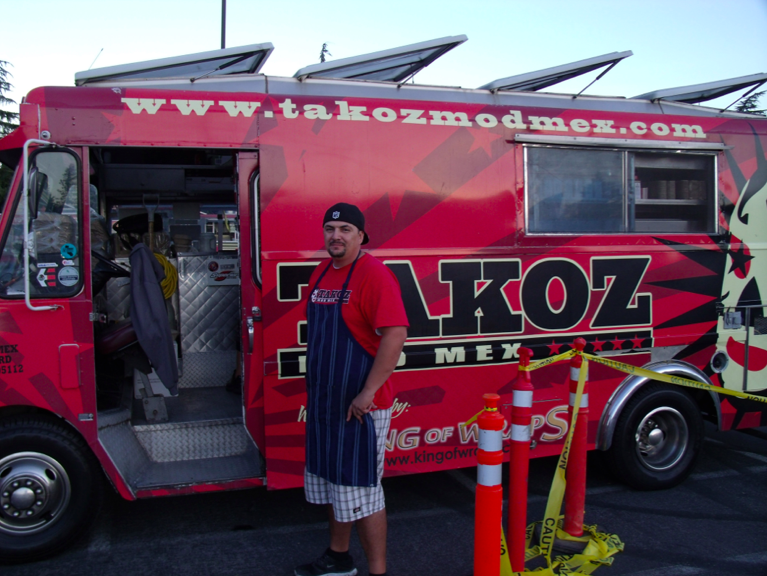 Steven Hall, Staff Writer
November 14, 2014|24 Views
The fragrance of good food filled Parking Lot A on Nov. 7 when seven food trucks drove to campus as a part of De Anza College's first Moveable Feast event.
Warm smells of curry powder and turmeric breezed through one area, while the scent of deep-fried chicken filled another, drawing hungry students to the trucks like bees to nectar.
Anticipation for Moveable Feast had been growing since the DASB fundraiser was first announced at the beginning of fall quarter. The event is scheduled for every Friday 5 to 9 p.m.
The most popular truck was KoJa Kitchen which had bright lights and vibrant full-color menus displayed in slide shows on flat-screen TVs. More than 30 people had gathered at KoJa Kitchen 14 minutes after the event started.
The trucks brought a little bit of food for every appetite: deep-fried street food, Korean-Japanese fusion, Asian fusion, Mexican street food, bubble tea, burgers, Taiwanese food and Indian cuisine.
"We have a modern interpretation of Mexican street food," said Gabriel Guiza Jr., 32, owner and operator of Takoz Mod Mex. "Some people might call it fusion but I don't like to use that word."
Guiza expressed concerns about whether crowds would come because it was the first food truck event held at De Anza.
This ended up not being much of a concern as students, staff and even curious onlookers came to see what the commotion was.
Moveable Feast owner Ryan Sebastian, 36, worked alongside his employees to put out additional seating for the rapidly increasing number of patrons.
"This is very exciting," said Sebastian "We really believe that De Anza College here in Cupertino is one of the most important spots in the Bay Area."
Accompanied by the musical stylings of singer/songwriter Peter Chung, the festival-like gathering drew still more people.
"We just passed by and we saw it," said Ray Yeung, 21, linguistics major.
Despite the success of the first event, there were minor issues.
"We need to revamp the parking," said John Cognetta, director of Campus Life. "Campus Police were going to come and cite these guys."
Sebastian said he was pleased with how things went and the number of people who showed, but he still had one piece of advice to give to those thinking about going:
"Come hungry."