Chill and Chat creates a support system for international students
The International Student Program (ISP) held a Chill and Chat event in their offices to connect international students with each other and introduce them to staff on Jan. 26.
ISP counselor Manija Ansari said the purpose of Chill and Chat is to give students an opportunity to bond so they form a support system in ISP.
"Coming back after COVID, it's hard for everybody," Ansari said. "It's especially hard for our international students because they are facing not only isolation from their own families and adapting to this new culture and society, but they also want to make sense of what's happening here (at De Anza)."
ISP holds several workshops related to immigration, campus employment and transfer. In addition to workshops, it offers virtual drop-in sessions every week to address any individual student concerns.
Zahra Jahankhah, 21, biology major, said the program has been a great resource for her. 
"I'm an international student, so I'm alone here in the USA," Jahankhah said. "When I have a question, the first place I want to go is ISP."
Jahankhah attended two Chill and Chat events in the last year. She said she had a good experience when she attended the previous one in the fall quarter.
"It was really pleasant. We met a lot of students from different cultures. We talked about everything – different subjects, different fields – and I like that," said Jahankhah. "I like this event because it is a reason to get close to each other."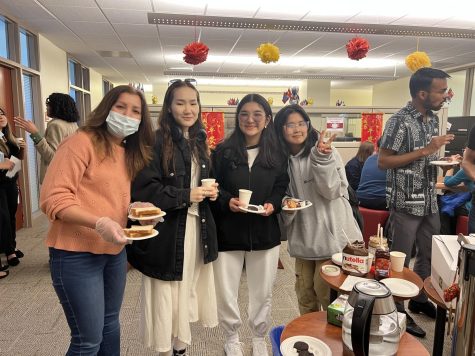 Phuc Nguyen, 20, graphic design major, said he attended the Chill and Chat to come out of his shell and engage with other international students after a period of social isolation. 
"I just want to find some new people because I didn't have many friends for two quarters," Nguyen said. "I'm kind of an introverted person, so normally I would just stay at home. That's why I'm trying to reach out and get to know more people, so I can adapt."
ISP counselor Noemi Tappang said the program is also learning to adapt by continuing to engage with students and expand the range of services they offer. 
"We plan to do two or three (Chill and Chats) each quarter just to have more student engagement and more student life coming back to the office since we've been mostly shut down due to the pandemic," Tappang said. "We might open up more things around resumes, interviewing and other career-based things, but we're still working on it as a team to see what students would like to see offered."
Program coordinator Lynn Ling said she is proud of the work the ISP team is able to do for students through events, workshops and individual assistance.
"I was an international student before, so I know the hardship and the difficulties they may be facing when they first enter a foreign country as students," Ling said. "I can really feel their (struggle) and I can provide the help they need because I was one of them. It always makes me feel that we are doing good things because we are providing suggestions and support."