De Anza holds first Welcome Day event
On Friday Sept. 21, De Anza College kicked off the coming Fall Quarter with its first ever Welcome Day,  according to the school's official website.
With an estimated 1,000  students attending, the inaugural event had a very successful turn out according to Marisa Spatafore, Associate Vice President of Communications and External Relations. 
The event comprised of various activities and forms of entertainment for incoming students such as campus tours, informational booths, food, and live entertainment. Each department of the college offered specific events for students hoping for more intimate previews of their desired areas of studies. Nursing students could observe care for artificial patients, while film majors could screen the latest student films.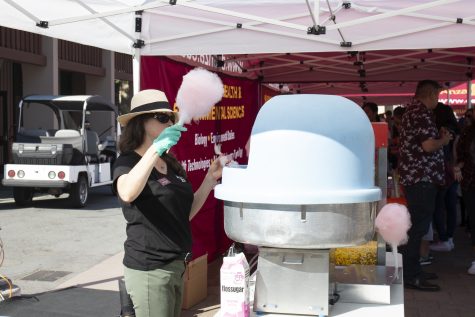 K.D. Le, Counselor and Humanities instructor, said "It is kind of an informal setting to visit different booths with games and information. They [students] get to talk to faculty and staff who are working in those programs."
In addition, this event allowed students the opportunity to meet their professors, find classroom locations, and learn about the programs and services offered on campus. Organizers hoped that it would ease the transition for incoming students coming directly from a high school setting.
"We are getting into that business to make students more comfortable and connected from the start," said Mary Sullivan, Health Education and Wellness Director.
According to De Anza College's Office of Institutional Research and Planning, first time college students made up the second largest demographic for enrolled students in the Fall 2016.
Johanna Borden, 18, Undeclared, said, "Without [Welcome Day], I wouldn't know where my classes were … It's really nice to come and see old friends and meet new people. I just want to hopefully become more stable in a college setting because I'm straight out of high school. I want to become more educated on what college life is like."
With the Fall quarter underway, Welcome Day hopefully gave new students the self-assurance the college hoped for and it has been confirmed by faculty that the event will return next year.
Featured Photo: Mary Sullivan, Director of Health Education and Wellness, and Gio Supnet, Administrative Assistant of Student Health Services, talk to students during Welcome Day. Photos by Ruben Campos.