De Anza's MegaProject under Measure G to demolish existing buildings meet backlash from Creative Arts Division
On Dec. 5, De Anza College hosted a collegewide Zoom forum to speak on Measure G, a bond approved in March, 2020 of $898 million from taxpayers to upgrade infrastructure and facilities at De Anza.  
Director of College Operations Jennifer Mahato mentioned some of the De Anza projects and district projects in process under De Anza's MegaProject, including upgrading fire alarm systems (Project 201), modernization of buildings (Project 212), creating a new beach volleyball facility (Project 204), and the two largest projects: construction of a new event center (Project 509) and construction of a new Services for Students Building (Project 202).
"There will need to be a community conversation around space utilization related to instruction and operational resources and how to continue to best serve our students and at the same time define our new normal," Mahato said. 
The Foothill-De Anza District has announced the plan to demolish the Flint Center in summer of 2024, to replace it with a new event center. District Chancellor Judy Minor explained how the new center will serve both student and instructor needs at De Anza, along with community needs.
"The board has made it very clear that it wants to have flexible space that serves instructional programs and Student Services programs and the community, in addition to whatever space is made available in the auditorium," Minor said. "We've really not had that kind of detail to say, here's what needs to be presented in occupying the flexible space that we have yet to determine that compliments the auditorium itself."
The second part of the MegaProject is the construction of a new Services for Students Building.
"(Project 202) includes many sub-projects: the demolition of the A Quad buildings, construction of the new Student Services building, creating swing space for the Creative Arts division and the construction of a new utility plant … to support the new facilities," Mahato said. 
According to Mahato, according to master planning, focus groups and survey responses, there was a need to improve the access to programs and learning communities through a new Student Service building, indicated in facility master plans in 2016 and 2021. 
"Some of the proposed programs that will be housed in the new (Student Services Building include) DASG, ICC, Office of College Life, EpiCenter, Learning Communities," Mahato said. "(However, this) is not finalized because we have not yet completed the campus survey or the budget and scope reconciliation."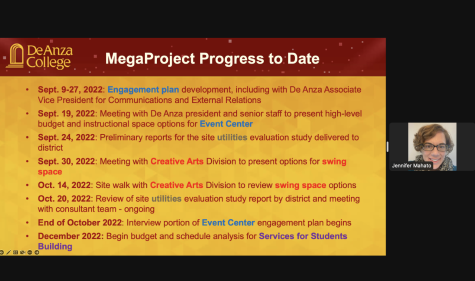 Although decisions still have not been made, according to Mahato, one of the most critical decisions they will have to make is finding swing space for the Creative Arts Division, which is currently located on the sites planned to be demolished. 
"There's going to be a point in time where we have to have really difficult conversations," Mahato said. "It's extremely difficult for all of us whether you're in instruction, student services or operations. Not knowing the future is challenging. But it can be exciting. Change is, after all, a form of growth."
Some students and faculty attending the meeting voiced their fear for the future of the Creative Arts Division, and how it could limit availability and possibilities for students. 
Casey Cosgrove, former De Anza student, founding member of the Art Club and former DASB senator, had previously supported Measure G's passing, but was now "disheartened" by De Anza's current plan for A Quad — which houses many arts-related classrooms. 
"I am extremely disheartened that you decided to basically demolish the A Quad," Cosgrove said. "It was my understanding at the time that you guys would go and either renovate the buildings or help improve them, not get rid of them all together." 
Cosgrove went on to say that the MasterProject would take away opportunities for students wishing to develop professional skills or attain Associate of Arts degrees. 
"Seeing the presentations today really disgusts me," Cosgrove said. "I still have friends and students who are at school. By taking away these spaces, you are hurting them in every way possible."
 Art History instructor at De Anza Elisabeth Mjelde said that previous art department faculty members, such as professor Eugune Rodrigez, were previously a part of discussions to create new buildings for the art department under the Measure G Bond, and are no longer receiving communication from the District. 
"When students are not at the table and when faculty members are not at the table, I really question what that planning looks like," Mjelde said. "(The Art Department) has gone from being asked to plan and specify a new building to now just being asked to not participate. It doesn't feel like the arts are being supported on a campus when in fact those who really are actually doing the teaching and the students are actually doing the learning are not getting to participate in the process."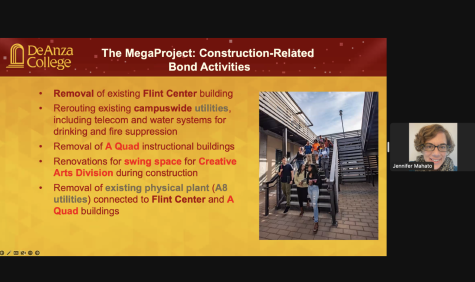 Eugune Rodrigez, instructor of 2D design, drawing and painting at De Anza, echoed these statements, saying that he wasn't among the creative arts staff engaged with the project architect to take a walk to review locations for the new Creative Arts Division. 
"Since I was on that committee, I should have been informed about that walk," Rodrigez said. "You invited no one else going to be using the space to go on the walk. Don't you think that's a bit dishonest?" 
Vice President of Administrative Services Pam Grey responded to attendees by saying the Creative Arts division's future was still in the early process of being planned, following the new construction under Measure G.  
"We would have to look at multiple things and places to put A Quad and Creative Arts — there are many different places where they can go, so we're in the process right now of the budget," Grey said. "Budgeting, with the architect seeing what's possible with scheduling and the impact on the rest of instruction. That is coming up." 
There will be a follow-up meeting at Foothill campus on Monday, Dec. 12, and more updates on the Measure G project hosted via Zoom in January, 2023. President of De Anza Lloyd Holmes ended the meeting with hope that the school and Measure G would provide service to the community.
"What's important to me (is) that we're able to design space where we're able to not only bring in our community, but also have our students at the forefront," Lloyd said. "I think serving our students best is what's most important."