Class Profile: Flow Yoga for the soul

2

min read
The room is dark. Soft music plays from wall speakers. A calming voice guides students through a series of poses. The atmosphere of Flow Yoga, KNES 22D, is relaxed and soothing, and might be the perfect antidote to the stress of student life.
But students don't just take the course to lay back and relax. Bhavna Sharma, 21, biochemistry major, said she enjoys the course because it helps her feel more energetic and improves her blood circulation.
This improved circulation is one of the benefits of inverted poses, which work to counter all the standing most people do, course instructor Danielle Altman said.
"It's basically taking that blood flow and reversing it, which can help with concentration," she said of the inversions that students practiced in class.
"The class also spends time on a variety of poses which emulate the actions people do every day, to improve alignment and range of motion," Altman said.
"There are many benefits of practicing yoga in class", said Sharma, who recommends other students take the course.
"It keeps you healthy, and mentally and physically fit," she said. "And it also helps in concentration."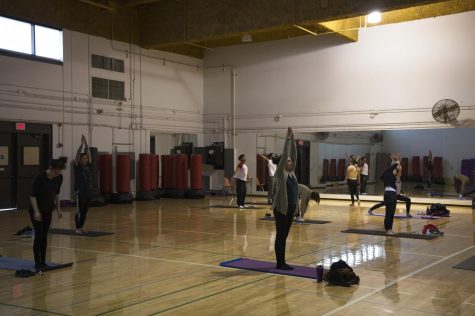 These benefits align with some of the goals Altman said she had for students who take the course.
"I just hope that they come in and improve flexibility, range of motion and also just the mind-body connection, which can improve concentration, reduce blood pressure," she said. "I mean, I have all kinds of goals, but the main thing is that they're coming in here, that they're unplugging for the time, and just kind of letting themselves be in the present."
The yoga courses at De Anza are fantastic according to Altman, and she encouraged students to sign up, whatever their skill level.
"There's no need to be nervous about being a beginner, because we'll build each class, and because it's the same instructor and the same students, it's a really comfortable environment to learn and practice yoga."
Flow Yoga will be offered next quarter on Mondays and Wednesdays from 2:30-4:20 p.m. with instructors Kelly Simons and Christian Reid May.