De Anza budget cuts and DASG's role in supporting the school
Editor's Note: This story has been updated to properly attribute information to the underfunding of mentioned services.
Over the past few years, De Anza has cut several staff positions in athletics and tutorial services as enrollment continues to decrease. According to members of De Anza student government, their organization has now stepped in to cover those positions out of their own available budget.
A 2017 analysis of full-time equivalent students shows that the school has experienced a significant drop in enrollment since 2011. The trend has continued into 2022, with a 3% decrease in enrolled FTES compared to the previous year. 
Declining enrollment results in decreased revenue for the college as part of the allocation from the district is based on this factor, explained Vice President of Student Services Rob Mieso. 
"We had a significant (budget) deficit around 2017-2018 and we had to come up with a budget reduction plan to address that," Mieso said.
The administration at De Anza asked the college departments for significant budget cuts to comply with the Foothill-De Anza Board of Trustees' "approved $10 million districtwide budget reduction target."
Student Services had to make a $3.2 million budget reduction in 2018, where over 20 positions were "eliminated" including 10 faculty members, 11.5 classified staff positions and two managers. Many of these positions were vacant or the staff occupying them were retiring. 
Hyon Chu Yi-Baker, Faculty Director of College Life, said that several other staff salaries were slashed during this process and the school's student government began to subsidize them. 
"They asked every unit and department to look at their budget and see what they could cut," Yi-Baker said. "If my memory serves me correctly, we went through a process within the division and realized that the only (position) that we could even consider letting go of was our Student Activities Coordinator."
DASG now fully funds the salary for this position, which is held by Maritza Arreola. It also partially funds the payroll of the school's College Life Office Coordinator Dennis Shannakian and accountant Lisa Kirk. 
Leadership Development and Student Activities Coordinator Maritza Arreola serves as an advisor for the Inter-Club Council, which oversees the college's 46 student clubs and trains students in leadership positions. She is also one of the primary advisors for DASG and Mentors at De Anza and works to support the general office of operations.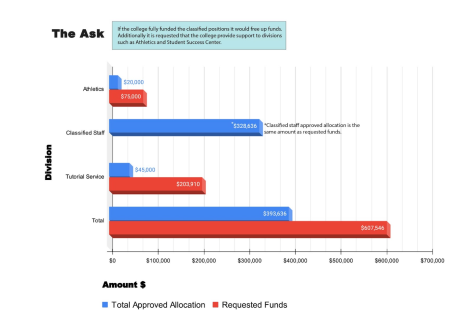 Some structural problems may arise if her position is eliminated, she said. 
"It would get a lot more complicated for students to go through the (training) processes," Arreola said. "(This position) is a way of ensuring that there is someone that can provide stability, as well as giving guidance and (keeping) civility (between students and advisors)." 
DASG president Amy Huang, 24, business administration, economics and management major, said that while the senate oversees which areas receive funding, the responsibility of a staff member's salary shouldn't lay on the student senators.
"If DASG saw fit, we could decide to stop funding these positions, which would effectively lay off the staff," Huang said. "That's a huge union issue; we shouldn't have this much power."
Huang and the DASG Finance Committee have presented this issue to both the administration and the Resource Allocation and Program Planning committee. She said they have requested the college to fund these positions because without them "there would be no college life."
Mieso said he's glad this issue was brought up to the administration and is appreciative that DASG has "stepped up" for these staff members. 
"It's important to look at our options and understand the challenge that the college faces in terms of budget," he said. "We're not funded enough so we have to decide how best we can use the limited resources that we have."
Martin Varela, the Director of College Fiscal Services at De Anza, confirmed the school is facing some structural issues because of the lack of funds allocated by the district. He said this included not being able to afford to pay the salaries of some classified staff members. 
"The positions that the (school government) is funding are very important and valuable to DASG as a whole," Varela said. "I personally think the college should be paying for the staff's salaries, but given the budget limitations we've had for many years, it's been difficult to bring them back."
DASG Finance Committee Chair TJ Chang, 20, business economics major, said that the district-wide budget deficit and the student government supporting classified staff's payroll made it challenging to allocate funds during the 2023-2024 budget deliberations.
"(We are left to pay) for these essential services (and staff positions) and that poses a barrier to use the money how we want to use it, (for purposes) such as homecoming, student employee positions and other events," Chang said.
According to this year's general budget by DASG, the major spending categories were athletics, tutorial services and classified staff, which received over $392,000 altogether. A total of $328,636 of that money was directed toward the staff's payroll and benefits.
Huang said these categories of spending are rarely, if at all, funded by other community college student governments in the state of California. She cited Bakersfield College, American River College, Hartnell College, Laney College and Los Angeles Mission College, as institutions where these positions are fully or mostly covered by school administration.
Varela said that in the past year and a half, the Office of Student Accounts has provided about $1.2 million to DASG as additional funding for lost revenue. This revenue was lost as a result of declining enrollment.
"We are all hurting at the same time," he said. 
During the 2023-2024 budget deliberations, DASG made budget cuts in athletics and tutorial services because they lacked funding. 
"Budget cuts like these are affecting real people," Huang said.
De Anza has more than 300 student athletes and this year the athletics department requested $75,000 from DASG, of which $20,000 was allocated to them. 
"The money is 100% used to pay for food, hotels (and transportation) when the school's teams travel," said Ron Hannon, the director of Athletics and Student Athletes Success. 
Other departments have faced some consequences of the budget deficit the district has been experiencing. 
At the Student Success Center, which offers students tutoring and employment opportunities, there has been a reduction of 10 student tutors since last year. For this year's budget, DASG only allocated $45,000 of the $203,910 the SSC requested.
Joowon Jang, 21, a computer science major, has been tutoring for over a year in math, computer science, English, Korean and ESL. He said the budget cuts won't affect him because he's transferring, but it will affect people at the SSC next year.
"I think this is quite abrupt," Jang said. "They're pretty much saying, 'we have a result, now follow it' and I don't think it's fair. It would have been a lot better if the student government had told us the reason why they suddenly cut the budget (so we can take appropriate measures)."
This reduction in student positions also limits the employment options of international students that come with an F-1 or M-1 Student Visa because of the strict restrictions around working off-campus. 
The US Citizenship and Immigration Services says F-1 students may only be eligible to work off-campus the first academic year as a result of special situations. After that year, both F-1 and M-1 students may be employed off-campus in areas related to their major and must be authorized by the Designated School Official and USCIS.
The De Anza administration has handled the budget deficit by hiring more part-time faculty members and cutting or merging some classes. 
Laura Orella, a part-time English instructor, explained how this has affected programming in her department. 
"Our reading program was cut a few years ago and the faculty members got absorbed and bundled into other classes," Orella said. "We still offer the program, but it's not as specific and is now part of other classes."
Hannon said that he is thankful that the school administration has stepped up to alleviate the financial shortfall the athletics department was facing this year. 
"They have made funding available for now," he said. "We don't know what next year is going to look like but I would say if the college is unable to (support us financially), we're gonna have to come up with another plan because our students are still going to have needs."