Enrollment drop leads to canceled classes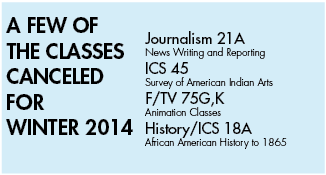 Winter quarter enrollment at De Anza College fell by about 2 percent compared to Winter 2013, and contributed to the cancellation of up to 128 classes.
The total head count of students for the Winter 2014 census was 21,311, compared with 21,711 students the previous winter quarter, according to the college's Institutional Research and Planning Department and Marisa Spatafore, director of marketing and communications.
The canceled classes have lead to frustration among current students.
"Students don't sign up when they're supposed to, yet they show up to class, ask for add codes and leave because they're on the wait list," said David Levack, 30, graphic design major. "This is why classes end up getting canceled."
Adding classes is also an issue because the classes are unavailable or instructors are not accepting any more students.
"Even with an early registration date, there were classes that I wanted to add and couldn't because they weren't offered," said Joey Laureano, 20, communications major, who is now behind an entire quarter.
Both general education and core classes have been cancelled. As a result, available classes become overcrowded.
"I saw students not being able to find a seat in my Biology class," said Sneha Thangellapally, 20, business administration major.
Despite the frustration, some students are seeing a positive side of low enrollment.
Michaela Connor, 19, theater arts major, noticed parking is no longer a nightmare like it was last quarter.
"I am taking morning classes and I expected many more students to be here," she said.
Students may not have such difficulty taking the general education and core classes they need if enrollment picks up in spring.