De Anza College witnessed an upward trend in fall quarter enrollment after 11 years of dropping, with an increase of 6.6% from last year.
The total enrollment this quarter is 44,560, which is 2,773 more than last year. California resident enrollment increased by 5%, which is 39,227, while non-resident enrollment rocketed to 20%, to 5,333.

Student headcount also increased by 5.5% resulting in a total of 17,588.
Nazy Galoyan, dean of Enrollment Services, said one of the factors behind the enrollment increase might be dual enrollment by high school students. Another factor might be the increase of non-resident students
Story continues below advertisement
"Because COVID restrictions are removed (now), more students can travel to the United States, more students can come to De Anza," Galoyan said. "There is another rapidly growing population of English as a Second Language non-credit students. It's my personal observation, (but) a lot of immigrants are coming in, and (the) demand for non-credit ESL and ESL classes is high."
Joseph Ng, program supervisor at International Student Programs, said that the 23% increase of international students is a significant change in enrollment because they are required to take more than 12 units to maintain their visa status.
"I think that people are thirsty for knowledge, for the experience of studying abroad because they have been staying home for three years because of the pandemic," Ng said. "Students want to catch up and return in-person and do everything what it was before."
Although students from Santa Clara County are still the largest group in enrollment, students from San Diego County, Riverside County, and Los Angeles County have reportedly more than doubled from last year.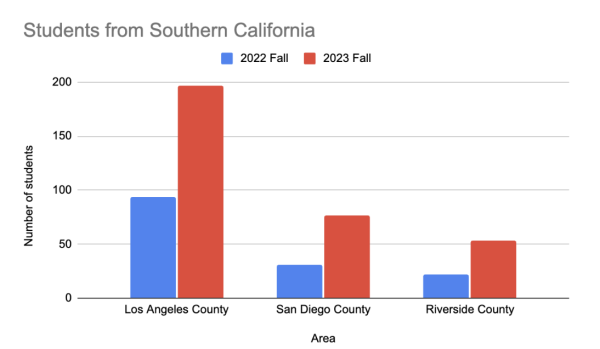 Galoyan said that students from outside of California and Southern California are "most likely taking online classes," because "they keep the current address and they have not moved."
On the other hand, students from Sacramento County, San Joaquin County, and Stanislaus County decreased.
Another significant change from last year is that students from outside of California increased 35%.
During the pandemic, the library was also shut down and students had to access resources online.
John Hogle, part-time librarian, said that he felt there has been an increase in people using the library because he has been getting more questions at the reference desk than he did last quarter.
The average gate count at the library per day from Sept. 22 to Oct.17 in 2022 was 1,272, but the number jumped up to 2,224 from Sept. 25 to Oct.16.
Keri Kirkpatrick, library technician, checks the gate count at the library and said she was surprised by the numbers, adding "the increase of enrollment affects the number of library users."
Lee Lambert, Chancellor of Foothill-De Anza Community College District, said that he felt excited for the increase in enrollment
"Our lifeblood is our enrollment serving the needs of our community, our students, and to see that the number is up, that's a positive thing," Lambert said. "It's been a long time coming and we hope we can continue this growth."