Our reporter, Mackenzie Jardine, asked La Voz staff to share some of their favorite albums and gave those albums reviews of her comment and ranking.
Quotes have been edited and condensed for clarity.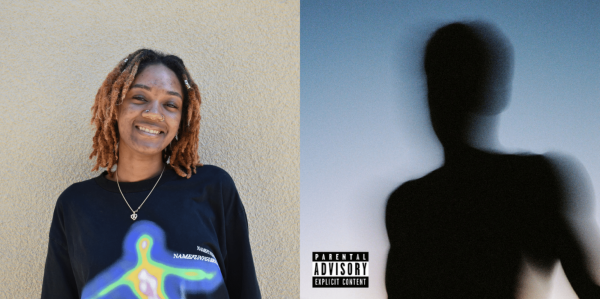 Samara Williams, staff reporter, picked "Case Study 01" by Daniel Caesar
Story continues below advertisement
This contemporary R&B album has 10 songs with a 43-minute and 5-second runtime.
"This album has no skips. The instrumentals, the flow, the meanings, and the melodies are all beautifully crafted," Williams said. "With each song, I find myself so invested in the meanings, and at the time of the release (2019), it was extremely relatable to me. It was a situation of falling in love at first listen. My favorite song would have to be "RESTORE THE FEELING" featuring Sean Leon and Jacob Collier, which delves into the desire of wanting satisfaction and contentment in life but not knowing how to get to that point."
Jardine's review:
This album has a lot going on. There are so many different inspirations and sounds that are all put through an R&B mixer to make the album insanely cohesive yet unique across songs. Caesar's vocals are on point; his personal harmonizations and added vocal effects only aid the album's story. There's something classic and addicting about his sound that makes the album a clear repeat. The collaborations within the album are all with wildly different artists (Brandy, Pharrell Williams, Sean Leon, Jacob Collier, and John Mayer), but Caesar and his collaborators blend into one another seamlessly. Caesar has the ability to shift tones across each song to create something entirely new within that very song, like he demonstrated in his song "OPEN UP." "Case Study 01" is a stunning album.
Top songs: "LOVE AGAIN", "OPEN UP", "RESTORE THE FEELING", and "ARE YOU OK?".
Rating: 5/5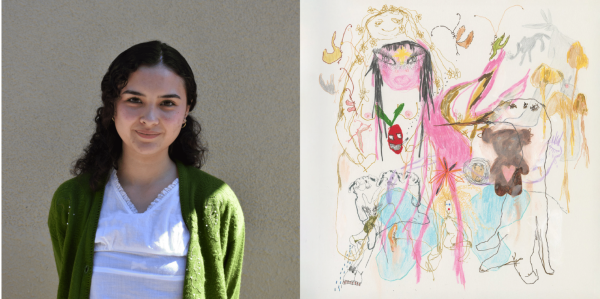 Lilah Schuck, staff reporter, picked "Beatopia" by beabadoobee.
This indie/dream pop album had 14 songs with a 45-minute and 44-second runtime.
"I have it (the album) on vinyl and I use it as a way to escape everyday life. It's helped me through a lot. I feel like her (beabadoobee) songwriting is relatable, but she has a signature sound," Schuck said. "She's also Filipino and is a source of inspiration to Filipino people. I don't recall having exposure to Filipino representation, especially in music, so listening to her makes me proud to be Filipino. It's clear that her ethnicity is a big part of who she is."
Jardine's review:
Beabadoobee's "Beatopia" immediately captures attention with the opening song, "Beatopia Cultsong," a whimsical chant filled with vocal harmonies and a rhythmic strumming of an acoustic guitar. As the album progresses, the whimsical verve stays intact, with songs easily fading into one another as her soft voice and deep lyrics take charge. The production of the songs takes form in typical indie sound: guitar-led, abundance of vocal layering, soft tapping drums, with forms of digital sounds sprinkled in the background at select moments. The album is an emotional narrative that rings true with the comfort and familiarity of talking to a close friend about their lives and relationships. Beabadoobee's constant tone surrounding her subtle voice can lull listeners to sleep, but her interesting production, headed by Matty Healy and George Daniel of the 1975, the band Cavetown, and Jack Steadman of Bombay Bicycle Club, and chasmic lyrics help to keep the album afloat.
Top songs: "See you Soon", "Ripples", "broken cd", and "fairy song".
Rating: 3.8/5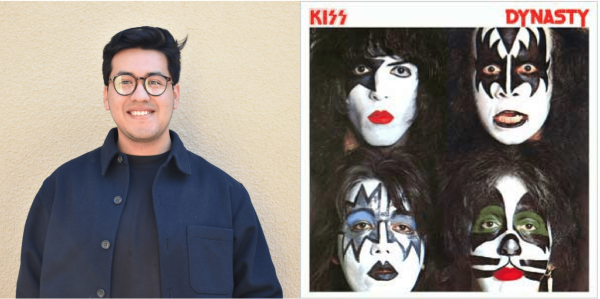 Nello Puelles, news editor, picked "Dynasty" by KISS.
This hard rock album from 1979 has nine songs with a 39-minute and 2-second runtime.
"One of my favorite rock bands is KISS. I like the '80s hard rock style and how they dress with the big high heels and crazy live performances." Puelles said. "It also reminds me of my dad because he loves KISS. My brother and I grew up with this type of music."
Jardine's Review:
KISS's seventh studio album, "Dynasty," holds one of their biggest hits, "I Was Made For Lovin' You," which sets the tone for one of the band's best-reviewed albums. "Dynasty" is filled to the brim with crushing drums, strong rhythm guitar, lead guitar solos, and perfect backing bass that show why KISS is so successful. The backstory behind the 1979 album makes it clear that the band members, Paul Stanley, Gene Simmons, Ace Frehley, and Peter Criss, actually weren't together for much of the two months of recording but still managed to make a collaborative victory. KISS is unique due to the fact that each member plays a part in lead vocals, guitar, bass and drums, often switching with one another based on who wrote what song, which bodes well for this album. "Dynasty" is worth the hype of the past and present but reigns supreme mainly due to its lead song, "I Was Made For Lovin' You".
Top songs: "I Was Made For Lovin' You", "Sure Know Something", and "Hard Times".
Rating: 4/5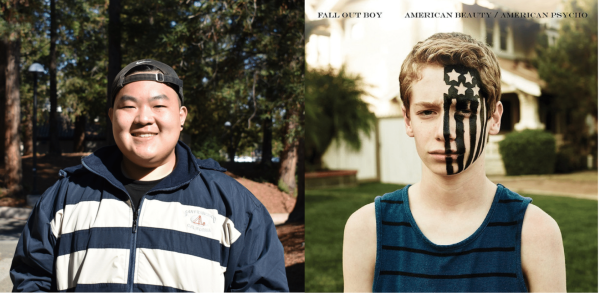 Lion Park, photo editor, picked "American Beauty/American Psycho" by Fall Out Boy.
This pop punk album has 11 songs with a 39-minute and 7-second runtime.
"The "American Beauty/American Psycho album by Fall Out Boy is the best album in the genre," Park said.
Jardine's review:
Full disclosure, I am a Fall Out Boy fan and have listened to this album many times before, unlike the others on this list. This album has some of their biggest radio hits all in one place: "Centuries", "Irresistible," which got a remix to include the powerhouse vocalist Demi Lovato, and "Immortals," the theme of Disney's "Big Hero 6". While I do love the radio hits, the true special aspect of this album lies within emotional and dark songs like "The Kids Aren't Alright" and "Twin Skeleton's (Hotel in NYC)". The album holds classic elements of Fall Out Boy but also bends to what the pop punk scene was like in 2015. It's softer and more consumable for general audiences, but has a surprise rock-heavy "Novocaine" in the center of the album. That song holds the album together for longtime fans among the more commercial sounds. It's not my favorite Fall Out Boy album, but it holds special memories of that point in my life.
Top songs: "The Kids Aren't Alright", "Fourth of July", "Novocaine", "Uma Thurman" and "Twin Skeleton's (Hotel in NYC)".
Rating: 3.8/5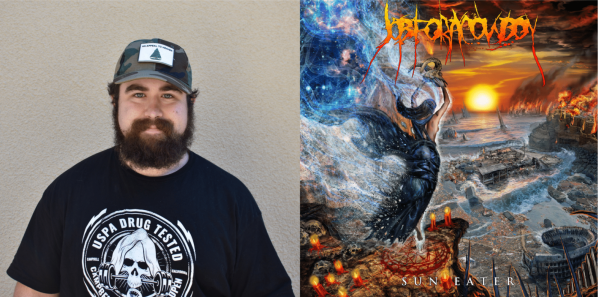 Vincent Scrivens, staff reporter, picked "Sun Eater" by Job for a Cowboy.
This death metal album has nine songs with a 46-minute and 44-second runtime.
"I like it because of the amazing production it has, especially with the bass guitar work," Scrivens said. "The quality of the album is very impressive and extremely consistent. I also like the lyrical themes, which mostly talk about religion and egotism."
Jardine's Review:
I am a newer metal fan. My love for the genre has been growing in recent years, but I have yet to explore death metal. This album was my first venture into it. Vincent is absolutely correct in hyping up the production of this album. It's extremely intricate, as most metal and rock songs are, but this album showed a mass amount of layering in guitars and bass that was amazing to listen to. I loved how interesting the production was across songs, with pacing and style changing constantly throughout. The vocal style of death metal (death growl) is a low-toned, guttural screaming that makes the lyrics hard to catch. The vocals, while intense, are pleasant to the ears and enact strong feelings, although I can't tell exactly what those feelings are. I enjoy the production of songs immensely, but I really am a "lyric girl," and the lyrics not being fully clear during my listening does pull me out of the connection. I know that's something that will change with more listens and as I adapt to the genre. Solid album.
Top songs: "Eating the Visions of God", "The Synthetic Sea" and "Buried Monuments"
Rating: 3.5/5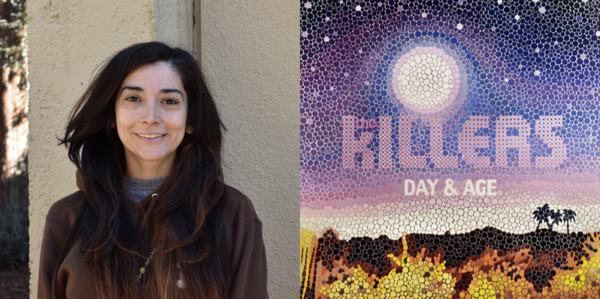 Catherine Marchione, art and entertainment editor, picked "Day & Age" by The Killers.
This dance rock album has 10 songs with a 40-minute and 49-second runtime.
"'Day & Age' is soulfully packed with inspirations from '70s/'80s type beats, using tones of punk vibes, disco, and lots of saxophone. The Killers are known to play with genres, and this album is less rock-inspired and more pop-inspired. Even though rock is my favorite genre, this album is my favorite because of its eclectic collection of diverse beats," Marchione said. "This album helped me get through a rough patch in my life, back when I was struggling with the loss of my grandfather. I was a scared teenager trying to figure out what life was all about besides pain, grief, and teenage angst."
Jardine's review:
I enjoy The Killers as a band and have heard "Human" from this album. It played on the radio a lot! It is a mixed-genre album with a lot of funky beats meant for dancing. I used to listen to the band Twenty One Pilots a lot in high school, and I can't help but feel that "Day & Age" was an inspiration to the duo's sound. There's a lot of similarity between Twenty One Pilots' albums "Vessel" and "Scaled and Icy" in terms of production and singing style. This album is absolutely infectious, and I enjoy that the pop influences weren't taken from 2008, when the album was made, but instead from decades before it, like Catherine pointed out. In an era of overly produced music (the 00s) where electronic sounds were taking hold of the music industry, it's nice to hear refreshing dance tracks that hold real instruments and interesting callbacks to music history. The album isn't all dance track-inspired. It holds some softer tunes like "A Dustland Fairytale" and "I Can't Stay", which hold lyrics that are classic to what makes The Killers so popular. It's not the strongest album from this band, as I enjoy their more rock-based sound and vocals, but it was a fun listen!
Top songs: "Human," "Spaceman," "I Can't Stay"
Mackenzie's Rating: 3.7/5