The 32nd Children's Moon Festival hosted at Yerba Buena High School, San Jose, on Sept. 30 featured live entertainment from the Vietnamese Student Association from local high schools, Vietnamese food and game activities, and an opportunity to learn and celebrate the moon festival.
The moon festival, or mid-autumn festival, marks a time when friends and family gather together to appreciate the round moon. The full moon is a symbol of family reunion, which makes the moon festival such a celebration in East and Southeast Asian cultures.
The festival included several local organizations, such as the San Jose Museum of Arts, Mekong Community Center, Chopsticks Alley Arts, and more, that came to promote their services.
Food trucks with traditional Vietnamese cuisine bustled when performances began between three East Side Union High School District schools: Yerba Buena High School, Evergreen Valley High School, and Independence High School.
Story continues below advertisement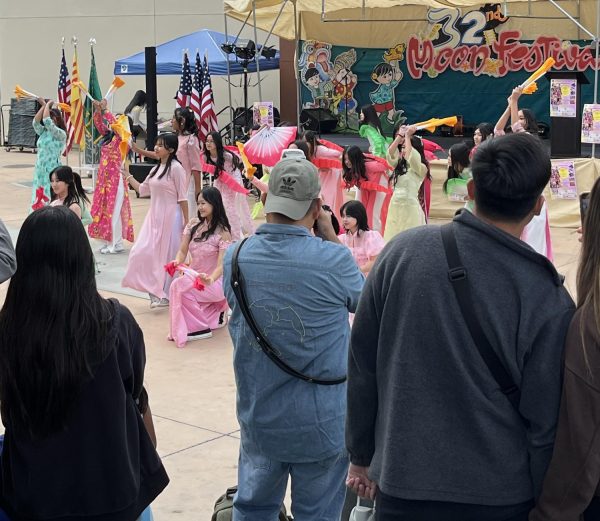 The three high schools' student-run Vietnamese clubs gave it all with their captivating fan dance performances.
Yerba Buena High School junior Gina Nguyen, 16, who performed, said that she was proud of the team for trying hard in their performances.
"I'm so proud of my peers who were able to bring this all together and try their best," Nguyen said.
The Vietnamese Student Union from Evergreen High School ended their performance with a lion dance that captivated the whole crowd as the dancers showed off their tricks.
Visitors from all around the main quad stopped and observed the performance as the lions danced around the stage, catching the children's eyes as one pointed and shouted, "Look, mom," prancing up to the lions with money in their hands.
The competition ended with Yerba Buena High School placed in first place, followed by Evergreen High School and Independence High School in second and third.
Nguyen said she found the festival fun to watch and participate in.
"I loved being a part of this," Nguyen said. "I hope I can perform here again next year."