Nice Buns! De Anza Burger Review-Chili con Carne Burger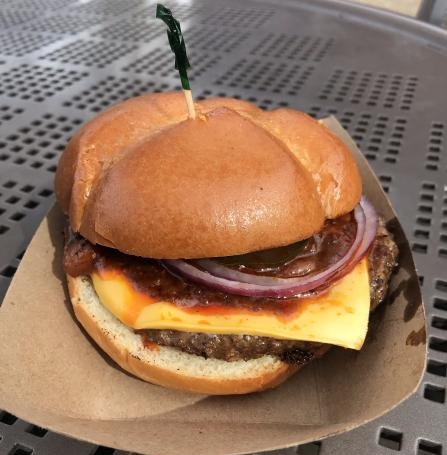 Hwan Lee, Staff Reporter
October 29, 2018
Take a moment to indulge yourself with this messy, yet flavorful burger to regain your nostalgic memories of both burger and the blend of chili and cheese. You'll definitely find yourself content with this simple combination.
Comprised of a beef chili with beans, American cheese, pickles and diced red onions with a toasted bun, this burger is an absolute joy to eat. It develops the taste of a chili cheese steak sandwich, but with the minor additions of condiments.
The chili's flavor overpowers the patty's texture, but the combination is still satisfying to eat. The burger's moderate saltiness from the chili and cheese may create a problem for some people, however the acidity comprised from the combination of the sour pickles and onions balance that rich taste of the chili, but only slightly.
The burger is definitely swimming with chili, which makes the toasted bun excessively soggy and a pure mess to eat. This complete texture change will transform the mentality of a warm soft burger into a disintegrating mushy mess when the chili melts portions of the patty and cheese.
It's slightly bothersome, but if you're willing to look past this flaw and enjoy it without the worries of staining your hands, then it's absolutely worth it.
This twist and mixture of flavors definitely work. While I wish that the amount of chili and beans could be put in manually to your own preference to reduce the level of sogginess, it doesn't distract from the positives and the actual flavor of the burger. Although the presentation is harshly disrupting the composition, giving the "Chili Con Carne" burger a try will bring you that delicious blast of confusing, yet functional flavor.