Men's soccer slaughters Ohlone College
Dons offensive barrage encouraging as the playoffs inch closer.
A masterful offensive performance by the De Anza men's soccer team, including a hat trick by forward Miguel Castillo, resulted in a 6-0 drubbing of Ohlone College on Friday, Oct. 23.
The Dons wasted no time getting on the board, scoring twice inside the first six minutes. Both goals came off the foot of forward Miguel Castillo on passes from team assist leader Roy Ortiz and forward Fiston Kizungu.
The Dons controlled the ball throughout the game with minimal resistance from Ohlone College and produced quality possession after quality possession.
At the 12th minute, on a set piece play, midfielder Alexander Ligeti launched a pinpoint pass inside the box where Castillo headed the ball above the goalie's hands for the third goal of the day. Castillo completed a special feat in the soccer world: A hat trick.
"Our game plan was just to start off quick and we got a quick goal," said Castillo, who leads the team in scoring with six goals on the year. "And after that I just felt confident to keep on going."
The De Anza men's soccer team extended their lead at the 23 minute mark when Kizungu headed a sailing corner kick from Ligeti. The Dons went into halftime scoring four in the first half and enjoying a comfortable 4-0 lead.
In the second half, the onslaught on the hapless Owls resumed as the Dons found the back of the net yet again. This time midfielder Francisco Ayala scored on an inside pass from forward Ahmed Mohammed.
The final goal of the evening came on a pass from Ortiz to defenseman Omar Menchaca-Torres, capping off a tenacious offensive effort. The Owls struggled to find the net on ten total shots for the day, while their defense fell victim to an aggressive De Anza offense.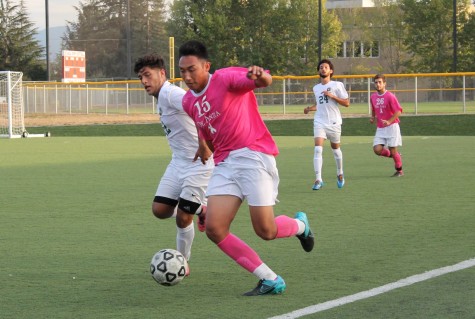 Head coach Rusty Johnson said his team played well considering the uncertainty of the roster prior to the game.
"We want them playing as well as possible every day. They're trying," Johnson said. "We're getting better, and so hopefully when we get into playoffs, it's a consistent high level of play every day."
De Anza  played without four starters on Friday, including both of their captains. Captain and midfielder Dan Galvan (red card), captain and defenseman Connor Kurze (rest), midfielder Adrian Toscano (rest), and goalkeeper Arshia Aghababazadeh (undisclosed).
Johnson said his alternate starters played well,  but snuffed any notion that they would start moving forward once the competition stiffens.
Of those spot starters, Goalkeeper Austin Burdick stood out, completing a shutout in his first start. Burdick said he used his first start as a learning experience, mostly staying calm during in-game situations.
"Relax more, and as I relaxed more I play better," Burdick said. "If I'm more tense, I play worse. Just relax and have fun."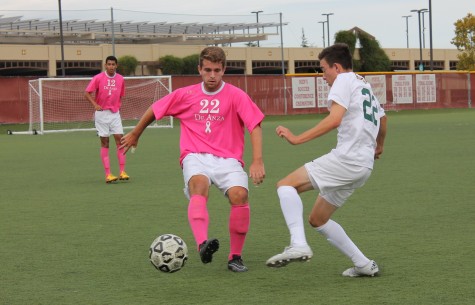 With his team rested, Johnson said he likes where his team stands at this point in the season as playoffs inch closer.
"I think we're set up nicely for the last part of our season and we'll see how they play," Johnson said. "We definitely want to start peaking towards the end of November."
Catch the Dons next home game on Friday, Nov. 6 against San Francisco City College.