Dons blank Canada College, win fifth straight
The De Anza Men's Soccer team defeat Canada College 2-0, extending their winning streak to five.
The De Anza men's soccer team defeated Canada College 2-0 on Friday Oct. 9, marking their fifth consecutive victory and second consecutive shutout.
Wearing pink jerseys for breast cancer awareness, De Anza College dominated control of the ball, and created a multitude of scoring opportunities throughout the game.
The first goal came in the 26th minute, when De Anza forward Fiston Kizungu received a cross, drew the attention of several Canada College players, and laid the ball off to midfielder Alexander Ligeti who found the back of the net, putting the Dons up 1-0.
Despite having many scoring chances in the first half, the Dons only scored once. Assistant coach Roheet Sen said the lack of scoring is not a concern, as long as the teams continue to create opportunities.
"For me as a coach, it's more important to create these chances, because you got to figure with the quality we have, eventually they're going to start hitting the back of the net," Sen said. "So the negative is that we're not scoring, but I think that the bigger positive is that we're creating these opportunities."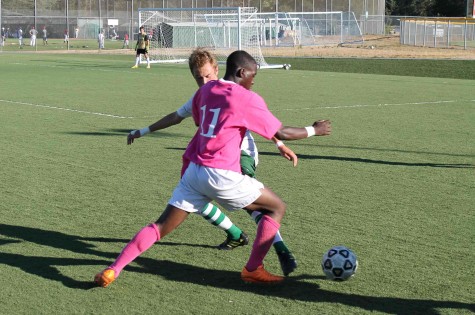 When the second half began, the Dons did not come out with the same focus and energy they had demonstrated in the first half. Adjustments helped the Dons get back on course and they managed to produce a goal in the 67th minute when forward Miguel Castillo scored on a pass from midfielder Austin Montalvo, for De Anza's second goal of the game.
"I just looked up real quick and saw the goalie out of place, so I just tried placing it as best as possible," said Castillo.
The defense was especially impressive during Friday's game, limiting Canada College to only one shot on goal, and helping the Dons maintain steady control of the ball and the game.
This victory marks a little over the halfway point of the regular season. De Anza head coach Rusty Johnson said he likes his team play thus far, but there is room for improvement.
"Come December we'd like to be peaking. We're playing pretty well right now, but there's a lot of things we'd like to improve on. We don't want to peak too early though, so we're working on things gradually day by day" said Johnson.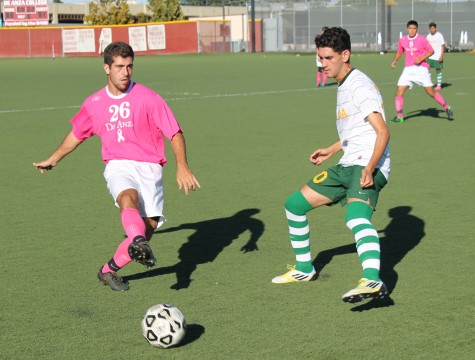 De Anza College will host Ohlone College in their next conference game on Friday Oct. 23 at 4 p.m.