Men's soccer enters 2022 playoffs with a championship on its minds
The state championships are around the corner — the California Community College Athletic Association expanded up to 24 soccer teams for the 2022 playoffs, which means more competition. 
After an 11-win and 3-loss season, the De Anza Mountain Lions soccer team entered this year's Coast Conference North Division playoffs as the fourth seed for the second consecutive year, following a runner-up finish in the Coast Conference South Division. 
The De Anza soccer team this season has a team full of freshmen from local soccer clubs and of course returning players. Its technicality with the ball and strong offensive plays have benefitted their wins this season.
The first round of the playoffs take place this week on the De Anza soccer field on Nov. 19 at 2 p.m. 
The Mountain Lions could have finished with a higher seed, but they slid down to fourth after a narrow 2-1 loss to Foothill College on Nov. 8.
Three days later however, De Anza managed to rebound with a 1-1 tie against Hartnell to finish the season. Head Coach Mark "Rusty" Johnson, told La Voz on Nov. 16  during his soccer practice that he was relieved with the outcome of the Hartnell game. 
"The fact that we were able to go to Hartnell and tie helped us a ton," Johnson said. "So we're just trying to get the guys prepared and ready and today is kind of the last day that we can really push them."
De Anza will go head to head against Feather River College on Nov. 19. 
Feather River College's men's soccer team is located in Quincy, California. Their current conference standing is 7 Wins and 1 Loss this season and on Nov. 16 they beat American River College in their first round of the playoffs, final score being 2-1. 
De Anza will practice every day up until Saturday's game. Co-captain Nolan Grieve, 20,  kinesiology major who plays center back for the team said he is excited to get back onto the field because of a strained hamstring injury, that caused him to miss three games this season.
"We've been preparing a lot on the defensive end because we feel like that's kind of lacking at times," Grieve said. "Our offense is super solid. As long as we can lock up the defense, then we shouldn't have any problems."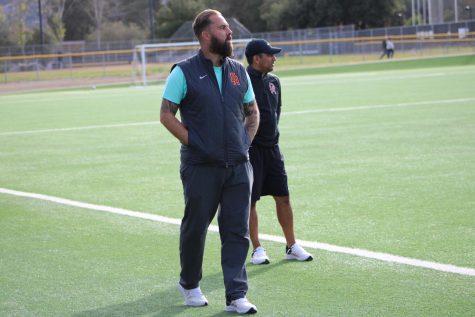 Johnson said that the team will be going over certain game situations in practice. 
"We want to paint a picture for (the guys) so that in the heat of the game, they know what to do," Johnson said.
Roheet Sen, assistant coach of the team, said that with the upcoming playoffs there has been high emotions for the team.  
"I've done this long enough to know how difficult a playoff game can be," Sen said. "Confident, but nervous at the same time."
Sen, however, said he is hopeful about his team.
"I'm proud of us. Just proud of the staff, and proud of the players especially. It's hard to get here," Sen said. "So we're just hoping to get five more wins and do something we haven't done here in a long time."