De Anza College art students process the pandemic through online only art show
In response to COVID-19, the Euphrat museum is hosting this spring's De Anza Student Art Show virtually from May 6 to June 30.
Diana Argabrite, Museum Programs Coordinator said it was a good turnout that almost 80 students participated with actual physical art which is shown entirely online.
"I think we got a good response," said Argabrite. "Lots of really interesting art, but in all different media." 
Argabrite said it did not take long for the online gallery to get off the ground.
"People started responding right away," she said. "People were happy and anxious to participate," she said.
Artist John Dorrance, 62, art major, created a long-nosed mask artwork "Captain Tripps" out of materials sourced entirely from his home and studio.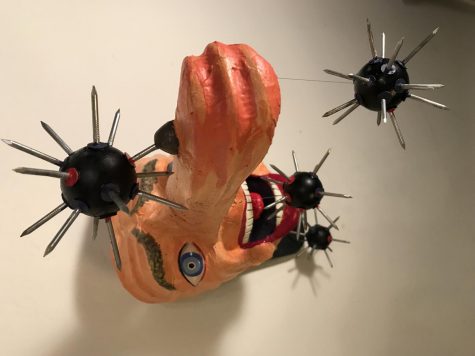 "As a matter of fact all the materials in that mask are from about 100 feet from the desk that I made the mask on," said Dorrance.
He said the black balls floating in front of the mask represent the virus. The piece is entitled "Captain Tripps" after a killer germ of the same name in the Steven King novel "The Stand."
Another response of his to the COVID-19 outbreak is the chair artwork "Plague Furniture." He had the notion of what a chair might look like if it got injected with a virus such as Ebola or COVID-19.
"Both of the works deal with my fear and anxiety around COVID-19, about my fear of dying or getting very sick with the virus because I am in a higher risk age group," Dorrance said.
He said places would show his artworks are no longer the same sort of venues, and was very glad that the Euphrat museum is doing it online. 
The window in Ai Bly's photograph "April, 2020" represents her interactions with the outside world during shelter-in-place.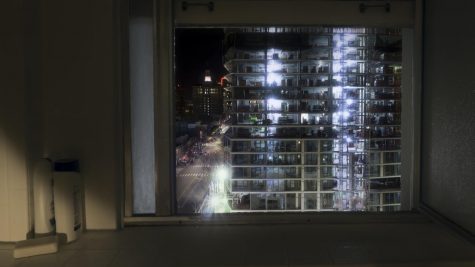 Bly said she was expressing her uncertainness to the future. She wanted to let people see her photograph to feel better about the situation.
"I like to go to school because sometimes I get inspired by other students' comments," Bly said. 
She said this time could be a new challenge, however, it could help her create.
One of the Juror Award winners last year for the De Anza Student Art Show, Marie Serda, art major, said her desire was to make people happy when she painted.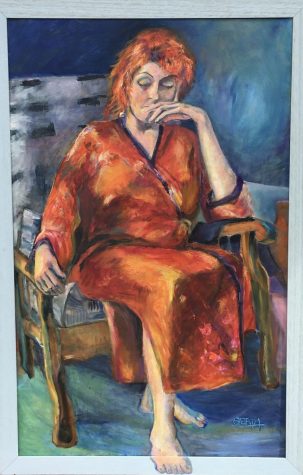 Her oil paintings from "Regaining Control over Yourself No Matter What," "Conversation with Herself" and "Nurse Christine" all focused on the violence and discrimination of women.
"Due to the shutdown, violence is coming up a lot now because people are stuck together, and it's very hard to separate," Serda said. "I worked on purpose here."
As the quarantine continues, art has been a way that some students have found self-expression.
"Gosh, I think we all need inspiration and a sense of feeling connected right now in particular," Argabrite said.
Check out De Anza College's online only student art show here.