Zuckerberg hearing not a joke
Our biggest takeaway from Mark Zuckerberg's testimony on April 10 should not be memes about his robotic demeanor, but knowledge that Facebook has been spreading misinformation and protecting itself from liabilities while leaving its user's information exposed.
Until now, Facebook has been mostly self-regulated and operated with little transparency. Lawmakers should be acting on behalf of the people by holding Facebook accountable and working towards security.
According to the New York Times, Facebook user's data was harvested through an app developed at Cambridge University's Psychometrics Center by professor Aleksandr Kogan. The unrelated political consultant agency Cambridge Analytica purchased the data of 87 million Facebook users from the app for $800,000.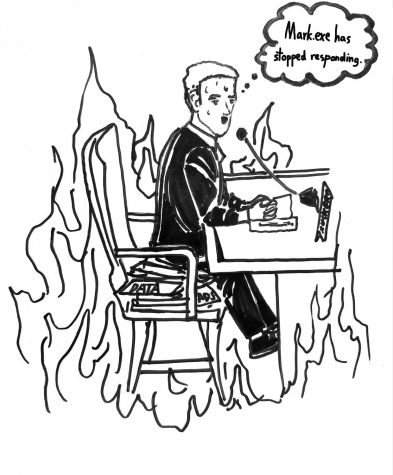 Zuckerberg claims that Facebook learned of this in 2015 and ordered Cambridge Analytica to delete all the data, and that they believed it had been. Facebook should have reported the data breach and taken appropriate action to protect users. Other app developers could be incentivized by this incident to take advantage of Facebook's negligence.
The Internet Research Agency, a Russian company that the Office of the Director of National Intelligence called "a close Putin ally with ties to Russian intelligence," used Facebook to interfere in the 2016 presidential election.
At Zuckerberg's hearing, Senator Dianne Feinstein said, "The IRA ran a coordinated campaign through 470 Facebook accounts and pages, the campaign included ads and false information to create discord and harm Secretary Clinton's campaign, and the content was seen by an estimated 157 million Americans."
When confronted with information like this, Zuckerberg apologized, took responsibility and claimed that the company needs to take a more proactive role in protecting users.
This conversation needs to lead to effective regulation of social media. Connecting people is the cornerstone of Facebook, but the privacy of individuals must be maintained.