Workers demand higher wages at May Day protest
There was a May Day protest in Roosevelt Park for International Labor Day on May 1. It was organized by a variety of different organizations, and De Anza's Higher Education for AB540 Students group participated in it. 
Ketzal Gomez is a San Jose native and the interim senior management analyst for the Office of Women's Policy in Santa Clara County. She said when her family first moved to San Jose, they worked on farms and in canneries, which eventually led them to  join a union. 
Gomez is a third-generation union member and participated in the 2006 May Day Immigrants' Rights marches in San Jose to honor her family history. 
"A lot of tech industries that don't support labor and don't support the working class have been (establishing themselves) in Silicon Valley," Gomez said. "Our call to action today is having everybody be able to unionize and organize, because being  part of a union is having power as people and  also just another way you can get involved. Not everybody has access to being a union member (because not everyone has the privilege to vote)."
Several organizations such as the Communist Party gathered in Roosevelt Park to protest for worker's rights. There were also people from different industries like fast food workers and trade workers who were striving for a higher wage.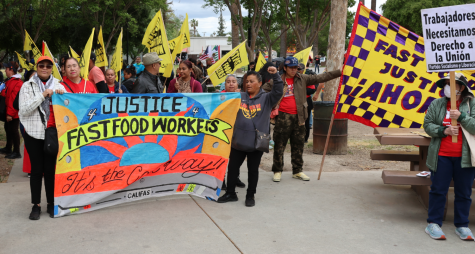 Sanjay Garla is part of the SEIU United Service Workers West, a labor union focused on empowering low-income communities and fighting social justice issues, and he expressed the inequality his family experienced as immigrants. He said when his family arrived in the United States they were faced with racism. 
"They worked really hard, and yet at the same time they were being told, 'You don't belong here,'" Garla said. 
He said for many immigrants, especially undocumented immigrants, it can be risky to advocate for themselves at their jobs. 
"What I've experienced or seen working with the labor movement is how employers will take advantage of immigrants since the risk of standing up to them is really big– you can face potential deportation," he said. "It's really angering how the government makes immigrant workers have such a hard time."
Amanda Alvarado is a member of Human Agenda, an organization dedicated to social justice issues. She said she has been committed to workers' rights for many years, as she benefited from her parents' hard labor to send her to college and become a lawyer. 
"I think it's really important that workers earn a living wage, especially today since the cost of living and inflation is so high," Alvarado said. "I think the minimum wage should be at least $19 everywhere. (Additionally), everyone should have the right to unionize and bring complaints to their employer without fear of being fired or experiencing retaliation and discrimination in the workplace."
Ivette Contreras, 20, Chicanx and gender studies major, serves as a mental health coordinator at HEFAS and attended the march with other members of the organization. She said May Day is an important day to honor her mother. 
"I don't want to see my mom stay in a job that's not supportive of her, but no one can do anything about it because no one's going to listen to the small workers and that's how society works," Contreras said. "Their voices should be amplified because they're the ones creating the profit for these organizations." 
For more information on workers' and immigrants' rights, reach out to HEFAS at [email protected]