Program addresses LGBTQ and mental health issues during the Undocumented Student Week of Action
De Anza College's Higher Education for AB-540 Students, an educational program that provides resources to disadvantaged students with an AB-540 status, hosted an Undocuqueer and Mental Health Day art and informational workshop during the state-wide celebration of Undocumented Student Week of Action on Oct. 18. 
This event took place in both HEFAS' Center at the East Cottage and De Anza's Pride Center, a space on campus to support LGBTQ students, staff and faculty where they hold different events and workshops and offer a safe space for anyone to express themselves without judgment. From 2 p.m. to 4 p.m. at the Pride Center's art workshop, attendees made mood boards, created jewelry and journaled. 
Shaila Garcia-Ramos, who was a De Anza student from 2009 to 2013 and the cofounder of HEFAS (previously known as Integral Movement for AB-540 Student Success), is HEFAS' program coordinator for undocumented student programs. Her position comes as part of California's AB 1645 assembly bill which requires and funds for dreamer resource liaisons in every community college.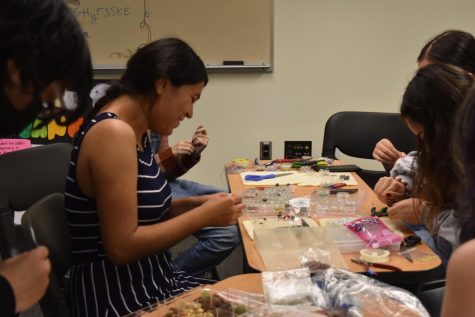 Garcia-Ramos said she was born in Acapulco, Guerrero, Mexico in 1990 and migrated to Santa Clara County, California at two years old, where she grew up. To her, the student action week was important to her as well. 
"This week is super important to me as an undocumented, queer woman of color," Garcia-Ramos said. "Events like this open up that conversation of being honest with yourself, being vulnerable with each other, and creates the opportunity to share different stories and perspectives. I think it's beautiful that we get to celebrate our identity and educate people about it because we're not hearing about these things, especially in the media."
Garcia-Ramos said that when she started as a student back in 2009, there weren't many resources for undocumented students on campus and that during that time schools asked for applicants' social security number, which is only granted to U.S. citizens, permanent residents and eligible non-immigrant workers. It wasn't until the California Dream Act passed in 2012, that these requirements were stopped. She also said how before that year applying to a four year college wasn't a possibility for many, including herself.
"Some students would put zeros just to get over that question and continue with the registration process," Garcia-Ramos said. "We felt that we needed to remove that and make education more accessible for undocumented students, which is why we started IMASS, and one of my dreams is to continue to expand our services and resources at HEFAS."
Angustia Paredes, 20, computer science major, heard about the Undocuqueer workshops through friends and said that events like these are important since they create a community and a safe space for people to talk about common things and not be afraid to express themselves. 
"I'm hoping to learn more about how people express their identity," Paredes said. "I'm also hoping that people will look into their biases and start learning that for the most part, they're not true."
Jamie Pelusi, faculty coordinator for the Pride Center, said she started working for De Anza in mid-August after mostly working on k-12 educational spaces supporting LGBTQ+ students. She said the event came about to address students wanting more mental health resources and to show solidarity and be in partnership with other groups on campus.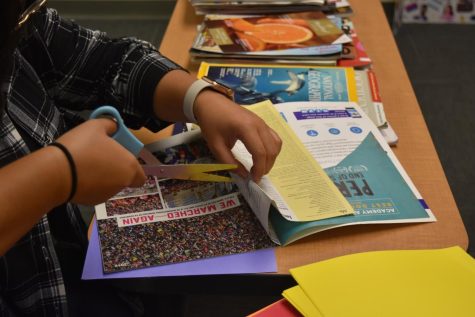 "It's really important for people of different struggles to come together and be in solidarity with each other because we need that support and cooperation to make progress in our own movements," She said. "We can't just rely on queer people to move forward the queer movement, just like we can't just rely on people of color to fight back racism. Everybody needs to be a part of these movements in order to make progress and events like this one are ways of collaborating and showing up for each other."
Dulce Ceballos, 21, film and TV production major, said she is part of the Purépecha community, an indigenous group consisting mostly of farmers and fishers located in Michoacan, Mexico. She said she also identifies as gender-fluid and that it has been a struggle to come to terms with her identity. 
"Even though my elders and friends can be very accepting, my family is uncomfortable with my queer identity," She said. "Growing up in California can feel freeing compared to other places, but because I'm undocumented I feel like I shouldn't advocate for my rights because I was made to believe that I shouldn't even be here. This event is important for me because it represents part of my identity as an undocumented student and also part of the LGBTQ+ community. It makes me feel seen and welcomed." 
Kyla Dacanay, 21, nursing major, said for her political-science class she has to do civil engagement where each student has to commit twelve hours to an organization. Dacanay chose HEFAS, and it was through there that she heard of the event. 
"I chose this organization because of their morals, values and their community work with the undocumented community," She said. "This event opened my mind on some of the struggles undocumented people go through and even though I don't share the experience, I can empathize with people of all backgrounds. I think we should all be accepting of people regardless of what their legal status is."