Religious message offends
Students react to street preachers on stage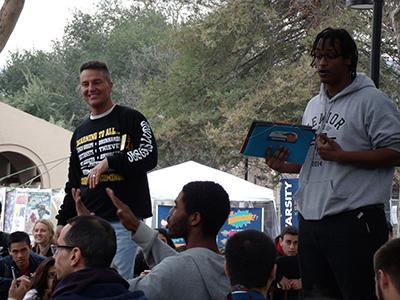 The main quad came alive with the sound of loud voices and people yelling in the early afternoon as De Anza College was visited by street preachers from Cry to God Ministries on Jan. 8.
"I actually came later, but what caught my attention was the hatred that he was preaching," said Safa Ben-Harchache, 21, computer science major.
Cry to God Ministries is known to show up at events with signs, shirts and jackets and spread their message to anyone who will listen.
"They got a pass to be here and preach about the word," said psychology and nursing major KamRon Perry, 19. "Unfortunately, what they did was they twisted it to suit their own purposes."
The preachers, identified only as Trent and Nathean, according to their YouTube channel titled "crytogod," spent their time at De Anza taking turns recording each other preaching on the stage using microphones.
"I no longer do that which is wicked!" Trent declared loudly to students to get their attention.
Cry to God Ministries founder Kevin Farrer has been open-air preaching for more than 30 years, according to Inland Police Officers Coalition, and he has traveled as far as Zambia to do open-air evangelism.
"I cannot speak of the things above and the gravity of Christ and the coming of his righteous indignation whispering it," Farrer says in his video titled, "Is preaching yelling?"
Open-air preachers, such as Cry to God Ministries, have been known to be disruptive to students and have occasionally been asked to leave the campus after becoming too aggressive and confrontational toward students.
In the video, students yell back when Nathean tells them they won't be punished if they are "good people."
"What hurt a lot of people here was that they said a lot of mean things," Perry said.
When Nathean began preaching about where the students would go when they died, he was met with a surge of opposition.
He singled out one unidentified female student and told her she needed a father or a husband to direct her.
"He was being so sexist and anti-feminist that it really pissed me off," said DASB Senator Naeema Kaleem, 17.
In videos on YouTube of the visit to De Anza by the Cry to God Ministries, the preachers have appeared on their channel with edited video of their open-air preaching style.
"While I was in the crowd, I kept trying to get people to calm down." Perry said. "But even then I still wanted to jump on the stage and punch him myself."
FHDA police were on the scene from the beginning and intervened before physical confrontation could break out.
"These people are set in their beliefs," Perry said. "And all we can do is be solid in what we believe in and walk away."