Summer Music: New jazz epic disappoints with repetition

2

min read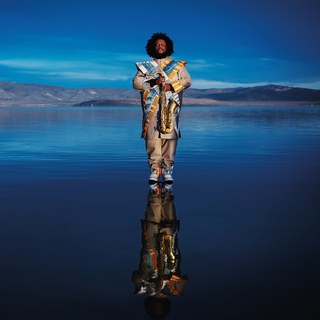 Kamasi Washington debuted his second full length album on June 22, "Heaven and Earth," a two disk spiritual jazz epic that drowns its potential in a huge tracklist.
Los Angeles native Kamasi Washington is a tenor saxophone virtuoso and jazz composer who broke out with his contribution to Kendrick Lamar's masterpiece, "To Pimp A Butterfly," and with his unexpected and refreshing first album, "The Epic."  
"Fists of Fury" opens the first LP, "Earth," by paying tribute to Bruce Lee's classic film in a extravagant flash of afrobeat rhythms, strings and horns, accompanied by a spell-inducing melody.
Patrice Quinn, a regular member of Washington's entourage, and Dwight Trible showcase their massive and soulful voices over psychedelic piano and sax solos.
The album shifts tone with the next song, "Can You Hear Him," introducing the cultural fusion "Earth" seeks to portray.
The polyrhythmic bass and rhythm section creates the perfect canvas for the hypnotic wailing synth played by Brandon Coleman as the rest of the band pushes on, ascending to higher and higher notes.
Chord ascensions throughout the album make songs like  "Hub Tones" and "The Invincible Youth," so powerful, but as "Earth" continues with these spiritual afro-
beat based jazz songs, this technique adds irrelevant noise, drowning out fantastic and emotional solos.
"One of One" showcases seamlessly smooth vocals and a sax, string and piano powerhouse ending, ascending again, actually working in this case as the album transitions into its second half, "Heaven."
The opening of the second disk foreshadows its spiritual ascension with "The Space Travelers Lullaby," the most mesmerizing and chilling slow build up on the album. Sustained strings, piano melodies and the gentle finish of Washington's sax really makes you feel like you're in a spaceship floating through the void.
The rest of the album sounds similar to the first half's latin sounds, afrobeats and drowned out sax, synth and piano leads, lost in the album's formulaic cacophony.
Almost every song in "Heaven and Earth" can be repetitive and uninteresting at times.
The album ends almost as strongly as it started with "Will You Sing," filled with a funky bass line, syncopated piano melodies and powerful vocals ending the spiritual journey.
"Heaven and Earth," although an impressive showcase of musical talent, did not live up to "The Epic's" musical diversity and impact.