The Foothill College Owls beat the De Anza College women's soccer team 2-0 on De Anza's sophomore night, Nov. 3, bringing the Mountain Lions' record to 2-13-1.
The Mountain Lions shut out the Owls for the first half, playing strong defense, but faltered in the second half and let two goals in under the beating 84ºF sun — De Anza's astro turf soccer field was hot to the touch through the game's two-hour runtime.
De Anza women's soccer head coach Mark Landefeld said he felt a bit bitter and that while the Mountain Lions played well throughout the game as a whole, the team failed to come through.
"Generally, we played well. The few times we made mistakes, we paid for it," Landefeld said. "We had some decent chances to put the ball in the back of the net, and we gave them up. (Foothill) caught us off balance in the second half and it's tough to dig ourselves out of that (two point lead)."
Story continues below advertisement
Still, Landefeld said that the team far outperformed his expectations. Considering the team had been on hiatus last year, they didn't have that skill built up and had to start from scratch. Because of that, combined with how assistant coach Isabel Sandez was only able to join the team two weeks before the season, Landefeld was proud that they only let two goals slip.
"We're just looking to get a little bit better each game," Landefeld said. "In this case, we're looking to maintain our focus and not make the same type of mistakes that hurt us today."
Sandez said she was also proud of how the game turned out compared to how she thought it would have gone, given that De Anza has been at the bottom of the conference all season.
"The girl dominated for most of the game, but we just couldn't finish or make the shots," Sandez said. "Being a first year program, we're going to make mistakes; the best I could ask for is to learn from them for the future."
By mid-August, when Sandez came to the team, the program only had 11 players — barely enough to compete — mostly because the Mountain Lions weren't able to recruit last year. Slowly but surely, over the course of the season, Sandez said that she and Landefeld were able to build up the team in skills and numbers.
"Some of the girls have never played soccer before De Anza, so a two-zero loss to one of the best teams in the conference? I will take that any day," Sandez said. "The girls are progressing with each day and each game. They're playing their hearts out and that's all I could ever ask for, but the scoreboard paints a different picture than their performance today."
Team captain and left back winger Jenna Lane, 20, a business administration major, said she understands why their composure fell apart but doesn't want to dwell on the loss or justify it.
"We just have to keep going. We need to keep our heads up to keep moving forward with every play and every game," Lane said. "I know we're tired and it's especially hot out today—it feels like it's ninety degrees out, but we have no excuse. We have to keep our heads up regardless."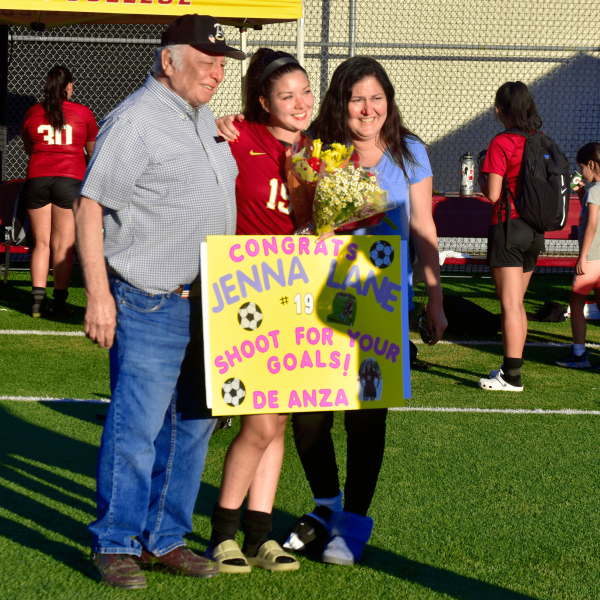 Lane is one of the team's three sophomores, and her parents and friends came out with posters and bouquets. The Mountain Lions celebrated their sophomore night regardless of the loss. Lane said she felt bittersweet but wanted to just let the moment be.
"I want to just take tonight in and enjoy this moment as it is," Lane said.
Sandez said she hopes she can stay and wants an opportunity to grow the team further.
"Give us another season; we'll be back and the numbers will be different," Sandez said. "Yes, we're starting fresh this year, but when we get to recruit people, we'll be a better team."