On your mark.
Get set.
Go!
De Anza College athletic teams started the quarter off with big and small achievements. Now, the Mountain Lions are ready and excited for the playoffs.
Story continues below advertisement
Sports in season this quarter are women's and men's soccer, men's football, cross country, and women's volleyball.
De Anza didn't have a water polo and basketball team this year, according to the De Anza Athletics website.
Football
As De Anza kicked off fall quarter, its football team kicked off for their only home game in over a month and lost 28-24 to Hartnell College on Sept. 23.
Following this, the Mountain Lions were on the road until Nov. 4, when they lost 32-6 to Redwoods College at home, bringing the team's record down to 2-6.
The team ranks 51st place out of 67 active teams in the California Community Colleges Athletic Association, with an average of 19.5 points per game. The team has scored 21 touchdowns so far.
Within De Anza's division, the Pacific 7, the Mountain Lions rank 6th of 7 teams, only outranking Siskiyous College.
As their fall season comes to a close, the Mountain Lions will play at home against the Foothill College Owls on Nov. 18 at 1 p.m.
Head coach Joe D'Agostino did not respond to two attempts by La Voz to schedule an interview by email or phone call and declined to comment on the last in-person outreach.
Basketball
De Anza canceled men's and women's basketball because the teams do not have a head coach.
Former head coach Jason Damjanovic stepped down after the 2021-2022 season; so far, De Anza has not found a replacement.
Both the men's and women's basketball teams are projected to restart practice in spring quarter 2024 and compete in the 2024-2025 season.
Water Polo
La Voz reached out to lead director Ron Hannon three times since Nov. 1 regarding the status of water polo, but didn't get the information by the time of publication.
Hannon wrote in an email to La Voz that he was busy preparing for "end of the fall sports season games and matches, gearing up for postseason run and getting ready to depart to Southern California for our (his) state meetings."
An update will be published as soon as La Voz receives it.
De Anza was supposed to host the Coast Conference Championship Tournament against Merced Community College and another school on Nov. 3-4; this was canceled and West Valley College stepped in to host CCC, seeing as De Anza lacks a team.
Soccer
In general, both head coaches said the Mountain Lions did well this season for what they were given.
Women's soccer head coach Mark Landefeld said that, for its first season back from a hiatus, the team is doing well.
However, the team had no base from which they could recruit — everyone that played before the team went on hiatus had graduated from De Anza and the team lost several opportunities to recruit new players.
"We didn't have a team last year, so we're starting from the beginning," Landefeld said. "A lot of (the players) were unaware that the program was back until relatively late (into recruiting season)."
Additionally, assistant coach Isabel Sandez said De Anza only hired her two weeks before the season started, which didn't give her enough time to help the team out.
"I didn't come in until the third week of August, and the season started (by) the last week of August," Sandez said. "I only had a little less than two weeks with the team, to work with them, so the team progressed every day, every week and every game."
Adding these factors up, the team holds a 2-13-1 record. However, Landefeld said he sees potential in this new group.
"It's a team that cares about and plays for each other," Landefeld said. "As a coach, you love to see that happen."
Sandez is proud of her team and hopes that, with more time and the right opportunity, they will have their chance to flourish.
On the other hand, men's soccer head coach Mark "Rusty" Johnson said he trained the team for the playoffs by having them face competitive teams during the regular season.
"We designed our season to go after teams that we know are typically in the playoffs," Johnson said. "A big part of our season is battle-testing these guys so that when we do get to the playoffs, (the Mountain Lions) are successful."
Despite struggling with injuries, foul trouble and a red card suspension early on in the season, the team looks to have bounced back, holding a 9-3-6 record and coming in at second in the south Coast Conference division — only behind West Valley.
De Anza lost when it played against Evergreen Valley College and Skyline College, both top five in the state, each boasting an 84% and 86% win rate respectively. However, to Johnson, this gave the team priceless experience and proved what they were capable of.
"We have lost our last two games against top teams, and they were one-goal games," Johnson said.
Johnson said he was impressed that the team held so well in both games, showing that De Anza has a fighting chance at state against schools like Fullerton College (86%), Norco College (85%) and El Camino College (95%).
The Mountain Lions also forced a tie against Santa Rosa College (80%) and West Valley (70%), De Anza's conference rival.
Johnson said he hoped giving the Mountain Lions a tough schedule during the regular season would pay off as playoffs begin, hopefully pushing the team all the way to state championships.
"We have a winning record, but we still have so far to go," Johnson said.
3C2A has not released the CCC playoffs schedule yet as of Nov. 9, but Mountain Lions will likely play their first playoff round on either Nov. 15 or Nov. 18.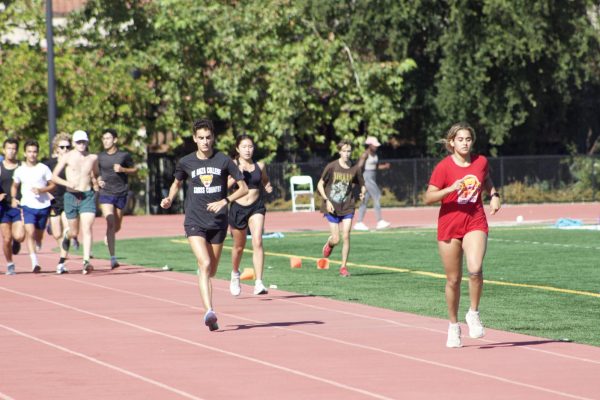 Cross country
Cross country had a busy season with invitationals, with the men's team placing first and the women's team placing eighth at Butte Invitational on Oct. 14. heading to compete at the Coast Conference Championships on Oct. 25.
Cross country head coach Nick Mattis said he had high expectations for the men's team.
"They're capable of winning the conference," Mattis said. "They're capable of winning NorCal and being a top team in the state but we just have to hit it on the right day, making sure that they're as mentally focused and healthy as possible."
As for the women's team, despite Mattis's administrative leave affecting recruitment numbers, he said he believed the Mountain Lions would qualify for regionals and make it to state at the 3C2A meet.
"We hope if the team finishes with five girls, they'll qualify to NorCal," Mattis said. "If they get through NorCal, they'll be in the top eight and we'll be in that mix (at 3C2A)."
At CCC, the men's cross country team placed second overall with Antoine Moret winning first. Following him was James Estrella placed sixth, then Diego Ochoa-Mendez in eight and Angel Arciniega in 11th.
The women's team placed 3rd overall with Jacky Velasquez in third, along with Joselin Joya Camacho who placed sixth.
Both teams went to NorCal on Nov. 3; the men's team placed fifth overall with Antoine Moret finishing second, while the women's team lost its spot at state.
Jacky Velasquez and Joselin Joya Camacho, who both qualified individually, will continue on to 3C2A on Nov. 18.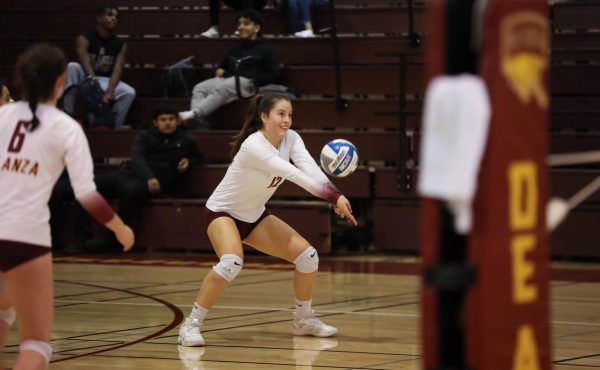 Volleyball
Dawnis Guevara, head coach of the women's volleyball team said the team is on the right track with a record of 10-17, as of Nov. 9.
Guevara also said her expectations for the next season is that former athletes can guide the newcomers.
"The sophomores are expected to lead the freshman group that comes in next year," Guevara said. "We need to build off what they learned this year and take that into next year."
Coach Guevara also talked about how De Anza needed to recruit new freshmen by next season.
"Recruiting is a never-ending process for coaches at not just De Anza, but any community college in general," Guevara said. "I have another group of kids coming in next year who we need to get up to speed with college-level volleyball as well."
As the cross country team and men's soccer team head off to state and playoffs, De Anza's baseball team practices for January while its award-winning badminton and beach volleyball teams begin warming up for February. De Anza's track and field team have also begun practice, now with Mattis back in play.
What to look for next quarter?
Next winter quarter, the men's baseball team and women's badminton team are coming off back-to-back state championships and kick off their seasons.