Iretunde Akinsola hails from Nigeria, but has found a new home
Iretunde Akinsola speaks with a kind of certainty that is initially disarming when he tells you what his plans for the future are once he finishes his career at De Anza College. 
"I'm going to the NFL," he says. 
"No offense, but coming from a community college football player, that sounds like a bit of a stretch," this writer responded. Throw in the fact that the 20-year-old only started playing football full time last year, and the odds are certainly against him. 
Yet, Akinsola is undeterred—he's already overcome obstacles much bigger than that. In the short time since moving to the United States from Nigeria in 2016, he's helped care for his ailing mother, cared for two younger siblings, and got accepted to UC Berkeley on academics alone. 
But it's the football that remains on his mind. The computer science major beams when he talks about the game he says "saved his life." What started as a way to fit into a new culture has blossomed into an obsession—one that turned him from a scrawny benchwarmer in high school to a dynamic starting linebacker for a resurgent De Anza team.
"I feel myself getting 1 percent better every day," he said after a recent practice. "I'm just scratching the surface of what I know I can be. (My teammates) have been playing their entire lives. Imagine what I can be with more time. More reps."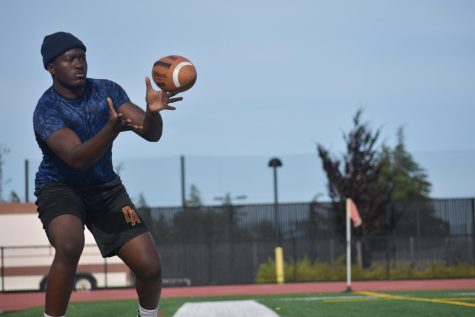 Growing up, Akinsola didn't even know what the NFL was. He was born in Stockton, California—which granted him an American passport—but was raised in Lagos, Nigeria. There, he said he grew up in a "positive environment" where his parents pushed him to do well in school above all else. 
"In Nigeria, you're expected to be a doctor, lawyer, engineer or a disgrace," he said jokingly. "Anytime I wanted to take any creative classes I got pushback. But if it was something like biology, (my parents) were all for it." 
Then, his idyllic life of going to school and playing street soccer was upended when he turned 11. His mother, who had been battling a mysterious illness for years, found out she actually had an aggressive form of breast cancer. So, she moved back to California for treatment, leaving Akinsola and his two siblings behind. They wouldn't see each other again for three years. "It was a miserable time in my life," he recalled. 
In Pleasanton, his mother found a small Nigerian community that she could lean on at a local pentecostal church. There, she befriended Abi Odusan, now known to Akinsola as his "Aunt Abi." 
Odusan, who had also recently moved to the Bay Area, accompanied his mother to her cancer treatments, assisted her in navigating the medical system and eventually helped bring Akinsola and his siblings over in 2016. 
"Ire was very shy and quiet," Odusan recalled about those early days."My kids were what you can say 'Americanized,' so to them, he was this foreign African kid until he wasn't."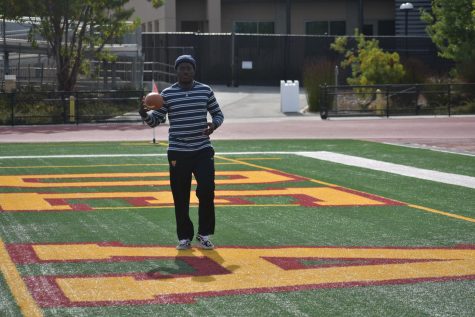 Settling into a new country was predictably tough for Akinsola. He started high school in the middle of his sophomore year and he said he stood out both as a foreigner and Black person. Meanwhile at home, his mother's condition was also not improving. He didn't have the same friends or hobbies to fall back on either, so he fell into a bit of a depression, he later admitted. 
Then, one day, he was approached by two classmates who were on the football team who said that he should come out to one of their practices. "I didn't even know what football was," Akinsola said. "They were just so personable and funny that I wanted to hang out with them more." 
Then, his love affair with the game began. Goofing off on a field just to make friends became more serious training sessions. Then came an invite to the football team's summer camp before getting an actual offer from the school's coach to join the team. 
"It was the first time in the U.S. where I was actually having fun," Akinsola said. "I just wanted to keep doing it. I didn't care if I sucked or had no clue what I was doing." 
Akinsola leapt at the opportunity to become a high school football player. Learning a new sport gave him a sense of purpose that he had lost when moving to the U.S. Being a part of the team also opened new doors that were previously not open to him: new friends, extracurriculars, and a sense of belonging. 
Despite the positive change in his demeanor, his mother and Odusan still had their reservations. They knew it was a violent sport and feared for his safety. But they also didn't want Akinsola investing so much time and energy into something that they didn't think was going to be in his future. That back-and-forth conversation would continue until his mother's death shortly after his high school graduation.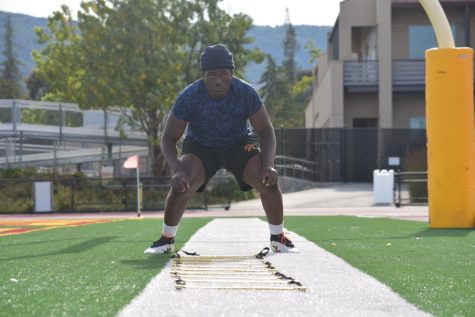 Even though he was on the team, Akinsola hardly played in his final two years of high school. So to say that he wasn't recruited to play in college would be an understatement. There just wasn't any tape on him. Yet, he was insistent that it was something he wanted to pursue further after he graduated. So he enrolled at Chabot, a community college in nearby Hayward, so that he could try his hand in JuCo football. 
"When he has his mind set on something, it's hard to move him off of it," Odusan said. After Akinsola's mother passed away, she briefly took him into her home before he set off on his own. Today, her family has become, by extension, his family. 
"It can be a good and bad thing," his aunt added. "But I've come to see firsthand that he is a serious and dedicated person that backs up his talk with work. That's not always something young people have." 
What would have been his first season of college football was cruelly wiped away by the pandemic. Athletics across the state shuttered at the same time classrooms moved online. But instead of getting discouraged, Akinsola took the time to catch up to his football peers. 
During the first year of the shutdown, he lifted weights and trained every day with his high school best friends Daniel Tolentino-Ibarra and Javier Rodriguez, who remain his biggest supporters to this day. 
"Ire was dealing with so much in his personal life, but he would never let you know it unless you dug deeper," Tolentino-Ibarra said. "That sort of adversity (of losing his mom and having to take care of himself and his siblings) would have wiped out anybody." 
"He's just built differently," Rodriguez said. "His physique really took off during that time too."
Even though he was improving as an athlete, Akinsola returned to Chabot the next year still buried on their depth chart. "Sometimes, when a coach has an impression of you—even if it's outdated—it can be hard to shake," he said.  
De Anza defensive coach Nate Tia remembers being more than intrigued when he first saw Akinsola at a football skills camp he ran in the offseason. "He was raw, but you could see that he has come a long way as a football player," says Tia. "He transitioned from playing line to linebacker in one year through a lot of training. All credit to his work ethic."
Tia, who had once played football at De Anza before returning as a coach, knew that Akinsola wasn't getting many opportunities at Chabot, so he told him to consider switching schools. The shutdown had decimated the Mountain Lions' roster and there were several defensive positions open. 
Then De Anza Head Coach Tony Santos eventually set up a call with Akinsola and convinced him to move down to the South Bay. "I've never had a coach so interested in my well-being, not just as a player, but as a person off the field as well," says Akinsola of that call. 
Now coming up on two seasons, Akinsola has thrived at De Anza both on and off the field. He maintained a 3.68 GPA and was named Most Inspirational Athlete at the school's 2022 Athletics Awards Gala. 
From a highschool benchwarmer, he's now accumulated enough tape to garner offers from Ivy-League and Division II universities, but is still holding out hope for a Division I offer—which he views as his best platform to go professional. 
Hearing this news, his Aunt Abi wishes he would just take what's in front of him instead of constantly shooting for the moon, but she can appreciate what he's manifested out of thin air. 
"Whether he makes it as a coach or player, I know now that he's going to the NFL one day," she said. "That's how passionate he is. Who am I to tell him that his heart is in the wrong place?" 
Still, she is constantly pressing him to plan for a life outside of football. 
Before the season, Akinsola did a Berkeley internship involving machine learning and cancer research, a cause that is dear to his heart because of his mother. 
One day, he would like to bring better cancer screening technology to Nigeria so that families don't have to experience what he went through. 
"I want to show people that they can pursue their passion outside of traditional academics first," he declared. "I want [my mom] to be proud knowing that I'm capable of both."