Film screening shows why mental health is important
Mental health should be a top priority for students, but sometimes they do not know how to talk about it or get the resources they need. 
Fortunately, De Anza College collaborated with the company Art with Impact to arrange a workshop on Feb. 15 that allowed students to view and discuss short films about mental health in a safe online environment.
Mariah Scott, a self-care advocate promoting social and emotional wellness, led the workshop. The workshop showcased three different films, each covering a specific mental health topic.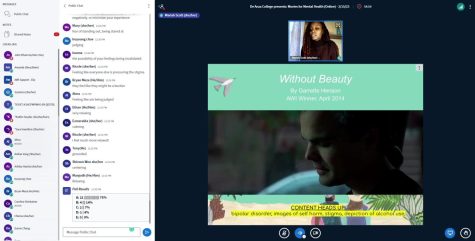 The film screening began with "Mind Matters" by Seyi Akinlade and Josef Adamu, which covered depression and the stigma around seeking assistance for mental health. The film depicted depression through the eyes of someone dealing with this issue. 
The film won the 2019 "Art With Impact – Short Film Competition," and the win was rightfully earned. The film evokes feelings of sadness because it covers such heavy topics, but also allows a sense of validation and relief for those struggling with these issues. 
The second film – "Without Beauty" by Garette Henson – discussed bipolar disorder. By showing a glimpse of the daily ordeals that bipolar individuals go through, Henson provides clarity and insight for those who may not understand the disorder. 
Henson made his audience feel the confusion of a manic episode as well as the numbness of being on medication. The pacing in the film represents the complicated life that  people with bipolar disorder face, which allows those without the disorder to get a better pictureof what the condition feels like.
The workshop ended with Carla Hernandez's coming-out story – "Queer Fear." Although this story may not resonate with everyone, it should be told: for those that can relate to Hernandez, the process of coming out – especially to immigrant parents – can be scary and isolating. 
All three films depicted their respective mental health issues using footage, imagery and sound to bring out sentimental emotions in their audience. To ease such strong emotions, Scott guided students with breathing exercises and other coping mechanisms after each film.
After reviewing all three films, Scott brought in three other speakers including  Foothill College psychologist Nathan Nguyen and De Anza's Mental Health and Wellness Director Wil Firmender. They shared their own experiences with mental health, and offered guidance and helpful tools for managing mental health.
The workshop's ability to normalize and destigmatize mental health issues in these films can help students confront their inner struggles. In addition to this information, attendees were given additional resources to better understand mental health.
As a cisgender straight male adult, it was hard to relate to the films "Queer Fear" and "Without Beauty." However, it was encouraging to see students using the chat feature to discuss and navigate through their emotions and thought processes throughout the workshop. 
Students' well-being needs to be talked about more often and this workshop is a good step toward the direction of prioritizing mental health.