Stanford Blood Drive returns to De Anza after three years
De Anza College's health services department hosted its first blood drive in 2020, continuing a long-standing collaboration with the Stanford Blood Center that stretches back more than 20 years. 
On Feb. 15, 12 Stanford Blood Center registered nurses came to De Anza to assist students who wished to donate blood. Stanford nurse Page Cal-Ortiz said that donating blood significantly benefits certain donors. 
"Donors who suffer from high hemoglobin have blood that is too thick," Cal-Ortiz said. "Donating blood can fix this issue, at least for a short period of time."
Stanford Blood Center account manager Monica Doleshel, who coordinates the blood drive, said donations are important because someone in the United States needs blood every two seconds.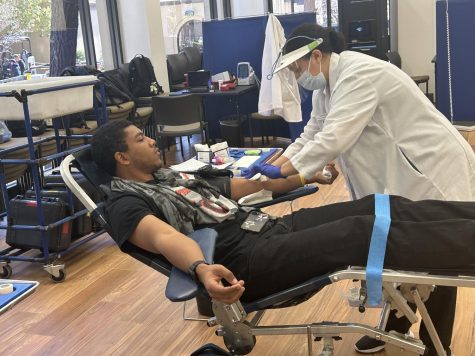 "Donating blood is important because artificial blood can not be used for a transplant," Doleshel said. "One donation of blood from a donor can save three lives for (people) in need."
Doleshel said she thinks it is very important for De Anza to host blood drives because some students may have never experienced them in high school or understood the significance behind donating blood. She also noted a need to collect blood from a wider demographic of people. 
"We need people from ages 16-35," Doleshel said. "We have (blood from) older people, but we need blood from younger people." 
One of the donors at the blood drive was Amir Muhammad, 24, mechanical engineering major. Muhammad said that he has already donated blood on multiple occasions.
"I try to donate blood whenever I get the chance to," he said. "I found out about this blood drive from a sign and used the QR code."
Susan Dahnie, a Stanford Blood Center technician, guided Muhammad through the process step-by-step. Dahnie said that she feels her work is rewarding because it saves lives. 
 "We are all about our patients and making sure they are safe," Dahnie said. "I think it is really important for us to not only donate blood, but to also teach the importance of (donating) it to people."
Isabel Nelson, 21, psychology major, donated blood for the first time. Nelson said she was nervous to do so because she was afraid of needles, but was willing to overcome that fear for a good cause.
"I came today because I really wanted to help save lives in the easiest way I can," Nelson said.
Over the course of six hours, the nurses collected blood from several students and faculty. The next blood drive is set to be held in the spring quarter.