Tennis, paralegal studies, massage therapy face ax
Programs to be phased out over a few years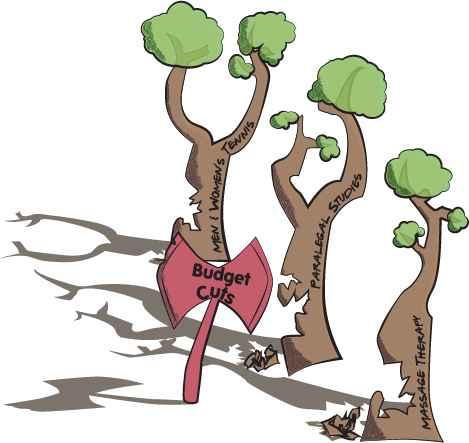 The De Anza College administrative Viability Advisory Team recommended elimination for men's and women's tennis teams, paralegal studies and massage therapy during the June 5 Instruction Planning and Budget Team meeting. The music department's associate of arts degree was also recommended for elimination.
Programs selected for elimination are to be phased out before their removal. Students currently taking courses will be able to continue and finish programs before they are eliminated. Further program cuts are planned because current recommended changes do not meet the instructional budget deficit.
"
If we take the $4.6 million deficit and we include the elimination of everything that I have just said, we're still at $3 million
— Christina Espinosa-Pieb
The Viability Advisory Team recommended a faculty load reduction for French, Italian, German, Spanish, photography and dance courses. The world language department plans for the advanced third course classes for French, Italian, and German to be offered to students every two years. Redesigning the Red Wheelbarrow program was also recommended, along with the transfer of funding of the Lifetime Fitness and Wellness Center to the Fund 15 budget on July 1, 2019.
The Wellness Center's change to Fund 15, the self-sustaining program fund, would separate it from the Instructional budget. The IPBT mentioned coordinator, CJ Jones, had ideas on improving the facility's self sustainability that would be implemented in the future.
The Viability Advisory Team had no suggested changes to the badminton, baseball, men's and women's basketball teams, and men's water polo team. Further consideration is needed for the Wildlife Science Tech program, the football team and the women's water polo team.
The IPBT approved these recommendations, and their decision will be sent to College Council. The current viability recommendations do not meet the budget deficit of $4.6 million in Instruction said Christina Espinosa-Pieb, IPBT co-chair and vice president of instruction.
"We are far from our goal and we are not done," Espinosa-Pieb said. "If we take the $4.6 million deficit and we include the elimination of everything that I have just said, we're still at $3."
One way to lower the deficit discussed in the meeting was the elimination of the rest of the vacant or soon-to-retire faculty positions, adding to the 12 positions that were already eliminated by the IPBT in past meetings. IPBT looked at the list of the programs offered at De Anza and their fill rates, voting to send programs to viability whose fill rates were less than 80 percent, after confirmation that the data is correct.
If the deficit number is not reached by June 30, the IPBT will revisit classified and management positions in the fall. "Whatever we don't reach in June 30, whatever decision we won't make…we're right back at this in the fall," Espinosa-Pieb said, "but now we're looking at people."