De Anza students travel to Kenya for archaeological research

2

min read
Isaiah Nengo, an anthropology professor at De Anza College headed out to the Turkana Basin in Northern Kenya this summer, taking four De Anza college students with him: Paloma Zamora, Joecell Agamata, Jorge Contreras, and Justin Wang.
This trip was part of a continued archaeological research expedition that started last year, when Nengo had discovered a skull of a primate. Dr. Nengo's research for the missing link has been going on for about thirty years, and with the recent finding of the primate skull he said he was inspired to continue his search for additional fossils with the help of De Anza students. He was awarded the Innovation Grant by the FHDA Foundation earlier this year and used that money to take four students with him.
"The trip was incredibly successful, way more successful than expected." Nengo said.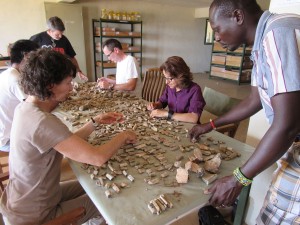 The team found a 12-million- year-old rhino skeleton, 5-million-year-old parts of a hippopotamus, and fossilized trees still standing in place.
"We found an ape skeleton the second to the last day, but we could not finish so we built a wall but this leaves good work for the future." Nengo said.
Watching the students develop and hone their skills is what Nengo said he valued most.
"I can see the transformation through the weeks and it is something that will change a person's life certainly." he said.
He recalled a conversation with a particular student during the trip and said that later he read on their blog about how it had affected that student positively.
He said he was joyous when he saw the students absorb and gain confidence through the challenges that came up during the trip. He believes the biggest accomplishment is students gaining courage to take risks and pursue the things they really love.
Zamora said during parts of the trip, she struggled with self- doubt when it came to a career path but that the group constantly provided great support.
She said, "They taught me to just go for it, even though you're scared or you don't feel like youcan do it. Just try anyways." When asked what she primarily took away from the trip, she said "confidence."