Dean's Momentum Series: Conversation and reflection on Netflix's 'Last Chance U'
In De Anza's ongoing Dean's Momentum Series, two athletic coaches from the Netflix series "Last Chance U" shared their individual journeys and personal careers when working with community college student athletes on May 15 via Zoom. 
Coach John Beam was featured in the season titled "Laney" and Coach John Mosley was featured in two seasons on "Last Chance U: Basketball." 
Coach Beam, athletic director and head football coach at Laney College and dubbed the "Godfather of Football" in Oakland, started his coaching career in 1979 in San Diego. He later moved to Skyline High School in 1982 and became the football head coach in 1987. 
"I had put 20 kids in the NFL (at Skyline), I was looking for a new challenge, and I didn't want to leave Oakland," Coach Beam said. "So when the job opened at Laney, it was right up my alley." 
At Laney College, Coach Beam has a 90% graduation and transfer rate under his tutelage and has sent over 200 players to division one in his 42 years of teaching. He is also the only coach to be awarded both the California High School Football Coach of the Year award and the California Community College Football Coach of the Year award. 
"The first four seasons of 'Last Chance U' were out of state, so they had scholarships and dorms and meal plans," he said. "It didn't have what we have here in California. I wanted to share that from an inner city. To show what we have, but I also wanted to let people know that we weren't last chance. We were first chance or best chance."
Coach Beam's proudest accomplishments include being able to have a positive impact on young athletes' lives as they complete their education and become productive members in society. 
"One thing I'm really big about is that we provide hope and opportunity," he said. "That's what the community college is all about. I'm a coach, but I'm also a teacher. We just happen to have the biggest classroom on the college, and it's outdoors."
Coach Mosley, Head Men's Basketball Coach and full time faculty member for the kinesiology department at East Los Angeles College, played basketball at ELAC and The Master's College before competing at the professional level in Australia and Brazil. He has coached basketball at The Master's College, Cal State University and today, is on his 10th season coaching players at ELAC.
"I initially started out at the university level coaching and I found (ELAC) to be an opportunity where I can have a better impact," Coach Mosley said. "I get a chance to come back and like the impact that people had on my life (at ELAC), I'm able to do the same thing." 
After 12 years and about 300 games at ELAC, he has an 80% winning percentage, and has led the Huskies to three state playoff appearances. 
"My purpose is to impact lives, and I'm passionate about seeing people do well," Coach Mosley said.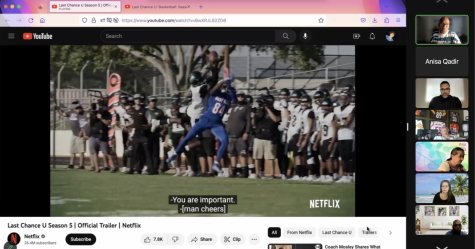 Both coaches voiced their initial apprehension to the documentary, but ultimately wanted to highlight the stories of their students and make a difference in their lives. 
"I was grateful that we were able to show that there was the right direction to go with some of these young men," Coach Mosley said. "And then show the success as well, they're graduating and getting their bachelor's degrees and going on to play professionally." 
The road hasn't come without its challenges, this is something that "Last Chance U" explores. 
"(Some students) just saw someone get shot and killed. Or they just saw a family member get incarcerated. Or they get high on a daily basis. Or they're adopted and they don't know who the birth parents are. That's a daily occurrence," Coach Beam said. "We have to be cognizant of what our students need."
Dean of Equity and Engagement Alicia Cortez also spoke of the prejudice present and projected towards student athletes, even at De Anza. 
"Work that we need to do is to have ourselves look at what are our biases that we may have about athletes," Cortez said. "Where did they come from and what assumptions that we make on athletes who come into our classrooms or into our spaces," 
Coach Mosley expressed similar sentiments, emphasizing the multifaceted nature of students and importance to understanding each of their stories. 
"Their front is being an athlete, but again, they have a story as well," he said. "They have a struggle, and they have a need. If we could just break that down and talk to them, we'll see that they have the heart."
Despite the work going into coaching being both challenging and taxing, Coach Mosley and Coach Beam said that being able to make a difference and seeing the product in student successes prevents them from burnout. 
"It's just drawing from those young people that I see every day and it's just the compassion that I have for all those young people," Coach Mosley says. "You just got to fight and have a chip on your shoulder, not just for yourself, but for the young people as well." 
As coaches Mosley and Beam reflect on their motivations, their shared dedication to young people shines through.
"That's where I get my energy," Coach Beam said. "Every time I see a success story. When I'm feeling down I think about (those stories). That's the difference that I made." 
The success found in coaching comes from a place of empathizing with students and understanding their individual experiences. 
"Walk in your students shoes," Coach Beam said. "Find out about where they're from, what's going on. We find all these young people that have seen barriers their whole life. We should be taking barriers down."