Club Day features exciting performances

2

min read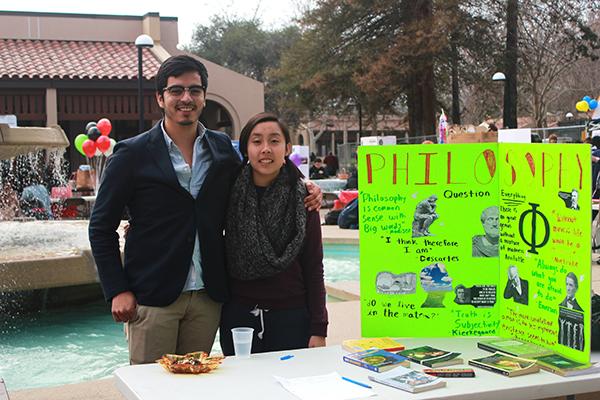 The main quad was electrified at De Anza College club day on Jan. 22 as students from all clubs gathered to showcase their talent, recruit new members and interact with other clubs.
Nineteen-year-old computer science major, Mark Rusmantijo began break-dancing and flipping high into the air alongside more of the dance group's acrobats promoting the Intervarsity Christian Fellowship; a club devoted to establishing and advancing the witnessing communities of students and faculty of Christian faith.
"I thought they were impressive because they made it look really easy even though I know how much time and effort has been put into those moves," said 20-year-old accounting major David Ching.
A few minutes later K-pop club, one of the many diverse clubs on campus, had cheers ringing through the quad as they performed precise and charming choreography to one of their favorite K-pop songs.
Twenty-one-year-old liberal arts major and K-pop club's Vice President Vanessa Garcia gets to learn different dances weekly alongside her club members from guest choreographers.
"No dance experience is needed…[just] express interest in K-pop culture…and dancing," said Garcia, and you're more than welcomed into their club.
The De Anza Network club had quite the buzz going on club day as well, intriguing potential members with candy pong where students could win free candy.
They were also handing out flyers to the latest social event, Flawless, organized by their Vice President Flor Martinez, a 19-year-old business and
entrepreneurship major.
She said she believes it's "not what you know but who you know" and their President, 24-year-old, Michael Pay takes this to heart as well. They help people get connected using events like Flawless and organizing guest "speakers [who] are all our personal friends," that club members can question and meet afterwards.
The Engineering Technology Club brought a few impressive contraptions toward the back of the quad. On their table a Quad Copter that club president Matt Terunllo a 19-year-old aero space engineering major, hopes to turn into a UVA-like controlled craft using a race car remote.
Matt is also working closely with the NASA Ames center on an invitation-only collaboration.  While 19-year-old mechanical engineering major and Project Manager DJ Yvanovich helped build the enormous wooden trebuchet featured at their table. He explained that it is like a catapult except powered by gravity instead of a spring. Unfortunately it wasn't yet ready to shoot on campus.
With exciting performances and presentations, the Winter 2015 club day was another one for the books.