APP REVIEW: "Ginger Page" a great new tool for students who need writing help

2

min read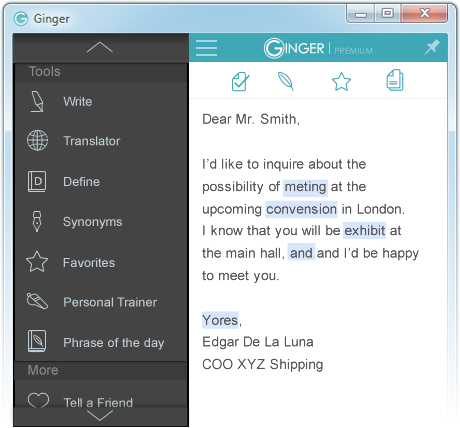 Everybody makes writing mistakes, even if English is your first language, and now there is an app to help with that. "Ginger page" is an app created to make writing a little easier for those who struggle with grammar.
According to the iPhone app store, "Ginger Page" is the world's No. 1 proofreader. It is a one-stop shop for all your writing needs. It claims to contextually detect and correct six times more grammar, spelling and punctuation mistakes than the spelling corrector on any computer.
"Ginger Page" is free for Androids and iOS. You can also download it on your laptop, but it will only be free for a limited number of automatic corrections per week. Even after this limited number, "Ginger Page" will continue highlighting mistakes; you just need to correct them manually.
When you first download "Ginger Page," there is a short tutorial on how to use the app. The setup shows a main screen where you can type your text, which will be checked immediately. It will show you the mistakes that should be corrected, which you can change with just a click from your mouse on computer or tap from your finger on phone. Next time, you will know your mistake and how to avoid making it again.
If you highlight a certain sentence, "Ginger Page" will give you suggestions and synonyms to replace repeating words. It gives you a list of synonyms, phrases of the day and even a personal dictionary, where you can type your own words and in so that they will not appear as mistakes.
Another great feature of the app is that it has a translator function with 43 languages in which you can write a message in a language other than English and "Ginger Page" will translate it to English.
There is only one negative aspect that I found: "Ginger Page" needs an Internet connection to correct your text. However, nowadays almost everybody has access to Wi-Fi or phone data, so this is a very small problem.
"Ginger Page" is not only useful for non-native English speakers and students who struggle with writing, but is a useful tool for students who are already strong writers but are interested in improving the quality of their writing.
Overall, "Ginger Page" is an extremely useful app and I give it five stars.