"Deep Reading" exhibit at Euphrat

2

min read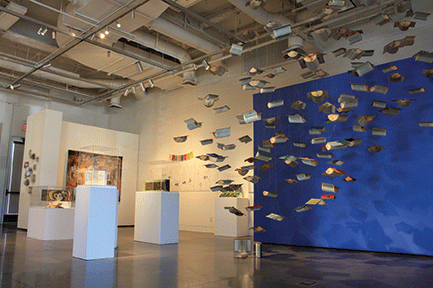 The intricate and eye-catching book installation at the entrance of the Euphrat Museum of Art is just one of the many pieces on display for the winter exhibition.
The exhibit is partnered with Silicon Valley Reads 2014 at De Anza College.
"It's a beautiful exhibit. I love the installation of the books and the paintings are beautiful" said Kim Dang, mechanical engineer and photography major.
The exhibit, "Deep Reading" is now open and will run until March 20.
Students and the general public are encouraged to go and experience the artwork that explores a variety of topics.
The pieces of artwork were chosen based on the topic for this year's Silicon Valley Reads theme, "Books & Technology: Friends or Foes?"
The exhibit was put together by Diana Argabrite, director of arts and schools.
She said she is proud that works of art by De Anza students are displayed along with the works of well-known professional artists.
The students' work holds its own, she said.
Argabrite took the Silicon Valley Reads' theme and interpreted it for students, art lovers, or anyone who is interested.
"In these shows I like to bring in stuff that is going to interest many different interests and classes," Argabrite said. "There's stuff that can relate to African American studies, math, English, history, art, and environmental studies."
Along with the art in front, there is "hidden" art that requires technology.
An app called "Layar" can be downloaded to most smartphones to find the "hidden" art in the exhibit.
It's another way the exhibit tied in with this year's theme.
"The books will draw people in but I like the difference in dynamics," said Antonio Torres, 19, graphic design major.
The Euphrat will host a reception on Feb. 19. From 5:30 p.m. to 7:30 p.m.
Atists will be attend the reception along with author Robin Sloan, who wrote one of the books chosen for this year's Silicon Valley Reads.
The Euphrat will host other events along with the art exhibit.
All of the information about these events and the hours for the exhibit can be found on the De Anza website www.deanza.edu/euphrat/in-the-museum.