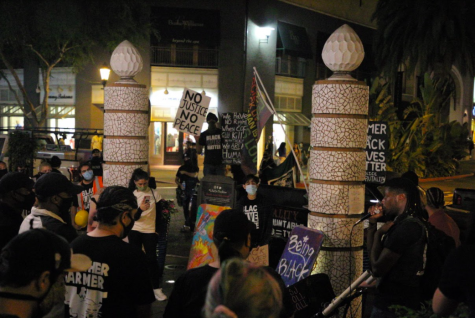 Manveen Kaur Anand, Reporter

October 7, 2020
The chants of "Being Black is not a crime!", "F--- your privilege" and "Black power!" filled the streets of Santana Row in San Jose on Oct. 2, at a Black Lives Matter protest over the death of former San Jose State University student Gregory Johnson.
Kathleen Quinn, Staff Reporter

October 23, 2019
Santana Row Santana Row is a high-end shopping district adjacent to the Winchester Mystery House. It's a great place to go window-shopping, with international fashion icons like Loft as well as more local chains like Anthropologie. The restaurants range from sit-down to grab-and-go. After catchi...
Samantha Jill UyBico, Staff Writer

November 22, 2014
Santana Row in San Jose is the ultimate upscale hangout spot of the South Bay with a variety of shops and restaurants and an overall well-kept outdoor ambiance. Located just across Stevens Creek Boulevard from Westfield Valley Fair Shopping Mall, Santana Row seems almost redundant, but the big difference...