Experience London: Study abroad Fall 2014

2

min read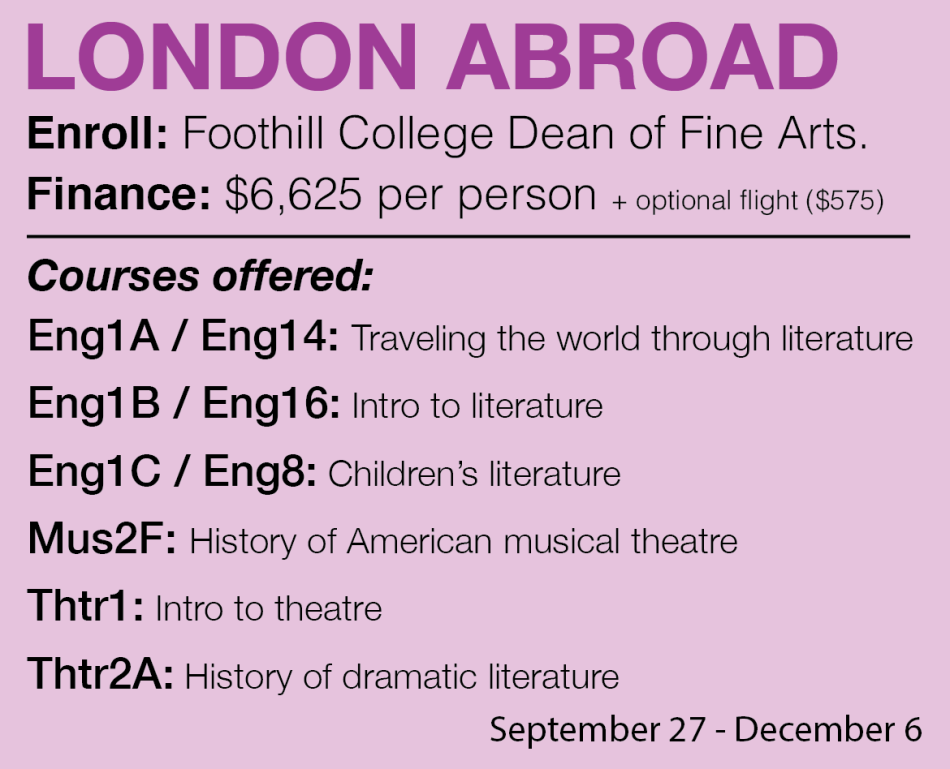 Geofrey Victory, Staff Writer
May 6, 2014|76 Views
Foothill and De Anza colleges are offering their students the opportunity of a lifetime.
Study abroad in London during the Fall 2014 quarter and experience art galleries, famous theaters, concert halls and historic buildings.
Accommodations include:
Twin room, in a homestay within residential neighborhood
Access to Kitchen
Bed linen provided
Transport travel pass
Medical insurance and much more.
An opportunity like this gives students a chance to learn from another country within the Western culture and differentiate it to our home country, the USA.
London has a lot of similarities to major cities in the USA, you won't feel too out of your comfort zone.
Kristin Elizarde, a student at San Jose State University, took the opportunity of studying a semester in London Spring 2014.
Elizarde said, "I have always wanted to go to London, and the transition to communicate is easier than any other country since the language barrier is non-existent between the students."
Cynthia Le, a student at CSU Long Beach who also studied in London for Fall 2013 said, "Every student experiences their wanderlust and in London it's quite easy to satisfy yourself with that."
Visiting London attractions is a must, whether it is Big Ben, Hyde Park and The Millennium Bridge or riding the London Eye. Everything is very accessible without spending so much of your budget.
London is a place where museums have free admission; it is a city that prioritizes education without the emphasis of cost.
Millisa Carey, a member of both the Music and Theatre Departments at Foothill College, and Scott Lankford, a California Community College Hayward Teacher-of-the-Year in 2013 strongly suggests students take the opportunity to expand their minds by going forth with the program.
This is an amazing opportunity: you will be able to travel and gain outside knowledge while taking classes with units that are eligible for transfer to a UC/CSU.