De Anza Dons looking forward to playing Contra Costa

2

min read
As the season begins to shape out the De Anza Dons have been firing on all cylinders with a record of 5-1.
The Dons 41-14 win against Contra Costa College, Saturday Oct. 13, solidified their strength this season.
Head coach, Tony Santos had plenty of high praise, heading into this game. "We're 4-1, and 2-0 in league. Our football team is getting better every week, and that is very exciting to us."
Coach Santos mentioned how he and his team were looking forward to playing Contra Costa, considering they were in A-league last season.
When asked about the improvements each week, coach Santos edged towards the hard nose plays of his defense, stating that it gives the overall team a huge competitive advantage.
"Anything less than a bowl game, is a failure," said coach Santos when giving his expectations for his talented team.
This week's game will feature quarterback Eduardo Andrade, 20, criminal justice.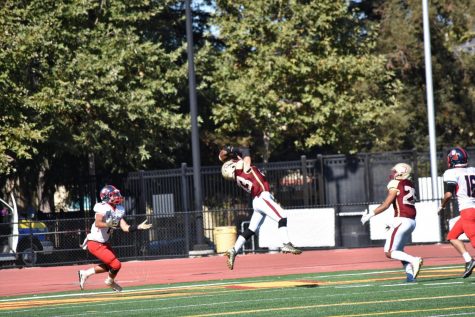 Andrade preached efficiency for the success his offense has had the last five games. "Our understanding of the game, knowing where we're at on the field," is what has caught the eye of Andrade, when he shared how the Dons offense has improved.
Andrade says a lot of this successful communication, on the field, is due to the brotherhood and communication off the field. "We never have any tension. We are all just a very good unit."
On the defensive side, linebacker Walter Peters, 20, communications noted that Contra Costa has a effective running game that is ignited by the returning quarterback.
"If we can stop the run and force them to throw the ball, we can send our dogs in, to pressure the quarterback and dominate the trenches up front," he said.
Peters recognized the defense has started off a little slow and shaky, in the beginning of games, so his emphasis on today's game, is to "Dominate early, and dominate from till the end."