De Anza baseball kicks off fall league

1

min read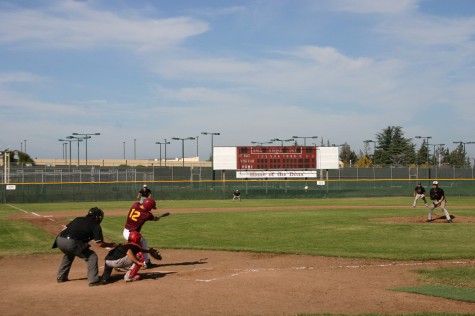 Friday, Oct. 14 marked the opening of fall baseball at De Anza College as the baseball team played a practice game against San Francisco City College.
The 16-inning game was full of lineup changes and players trying to make the team for spring. New head coach Erick Raich and his staff used the game to look over the roster, which will be cut down in the next few weeks.
"We want to see what we have," Raich said. "The roster will be cut in half soon, so the staff is looking for progress every game."
Raich made three lineup changes during the game, including the pitcher, in order to see all the players showcase their abilities. Players had three innings or less to make an impression on the new coaching staff while vying for playing time in the fall.
During the practice game, two players stood out in particular: sophomore Justin Edgar and freshman Cris Castillo. Edgar had an overall good offensive game while he and Castillo also pitched extremely well.
The team will be looking for both of these players to build on their performance in the next game.
"We're looking to add different things every game," Raich said. "No bonus points will be given during the season, so we will have to work for everything."
The baseball team will use this game and the entire fall season to rebound from a spring season that ended with a 3-31 record and resulted in a new coaching staff. The next step in the rebuilding process will be Saturday, Oct. 25 when the team faces the Los Angeles Dodgers' scout team.