Sports Profile: Pinky Li, a calming presence

3

min read
Two-time state champion is quiet and hardworking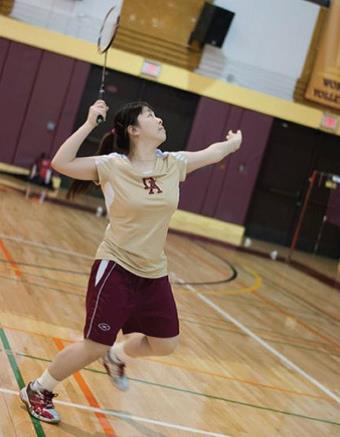 Amid the chatter of fellow Le Café patrons at De Anza College and Gloria Estefan's "Everlasting Love" playing mid-song on the radio, 18-year-old sophomore Pinky Li, wearing her black and white De Anza badminton jersey, sits at a small table near the window looking confident, calm and composed—the same demeanor she possesses on the badminton court.
Li has been playing badminton both casually and competitively for 10 years. Despite suffering several injuries and sacrificing time and money, Li has continued to stick with it.
"I love this sport," she said. "It's interesting and I don't want to give up and not see how far I can go with this sport."
Li wrapped up her second and final season with the De Anza badminton team and was named state champion for the second year in a row when she won her singles and doubles matches against San Diego City College on Thursday, May 8.
The accomplishment was no surprise for De Anza badminton head coach Mark Landefeld.
"We felt that there was nobody who was going to touch her this year and that proved to be the case," Landefeld said.
Li's win on the badminton court didn't come without years of preparation.
"She trains a large amount outside of what we are doing in the program and at a pretty high level," Landefeld said. "So that brings a degree of confidence to her when she's competing."
Li, an international student from Hong Kong, started playing badminton just for fun at 8 years old, but started competing at 12, when she joined the Hong Kong Junior Team.
At the age of 16, Li's family moved to the United States to give Li and her sister the opportunity to study in a different place.  Li said the main reason she came to De Anza is because she looked up the college online and saw that it had a badminton team.
When Li is not playing for the De Anza team, she trains and plays individual events with Bintang Badminton in Milpitas.
Constant training and keeping up with schoolwork leaves Li with little free time. Li, a biology major said that "time is the big issue" and balancing studying and badminton is never an easy task.
On the off chance she does have some spare time, Li takes road trips with her teammates and close friends. They drove to Pasadena over spring break and spent a few days in Fresno after competing in a badminton match.
Li has another year at De Anza and will be using that time to finish the courses she needs to transfer to UC-Davis, Berkeley or Los Angeles in hopes of becoming a physical therapist.
Li, who has sustained at least eight injuries over her badminton career, including pulled muscles in her back and a twisted ankle, said she wants to help athletes because she understands the impact an injury can have on them.
While Li is no longer eligible to compete at the intercollegiate level, she said she will continue to play badminton after she transfers.
"She'll be welcomed with open arms," Landefeld said. "Any club program would be excited and privileged to have her play for them."
Li finishes her De Anza career undefeated in all singles matches.