Volleyball woes continue, drop eight straight
Dons lose eight straight game, but still show signs of fight in them.
An uninspired start and inconsistent play by the De Anza women's volleyball team led to a three-set loss (25-17, 25-18, 25-17) against the Ohlone College Renegades on Friday Oct. 2.
The Dons began slowly and had no answer for the Renegades offensive barrage in the first set. Head Coach Dawnis Guevarra said low energy and focus kept the Dons from competing.
"Energy was really low, so that should never happen, you should never have low energy coming into a match, and they never quite got out of that," Guevarra said. "I felt like they were kind of in a funk most of the night."
De Anza momentarily lifted themselves from that funk in the middle of the second set when they went on a five-point run, but a flurry of hits from Ohlone College buried them too deep for the Dons to scrape themselves out of.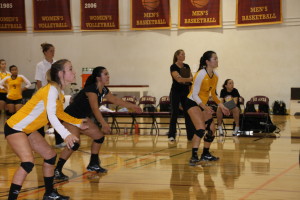 Team captain and outside hitter, Amelya Vu, said poor communication on the court hindered the Dons from progressing as well as developing consistency.
"Our team, we have an issue about communication on court, like together, we have really good chemistry, but on the court, some of us get psyched out," Vu said.
After a slow start to the third set, the De Anza Women's Volleyball team flashed moments of brilliance and chipped away at a six-point deficit, tightening the score 17-14. To the Dons' demise, they could not ride that hot streak to a victory and force a fourth set.
Anna Craig, middle blocker, reiterated Vu's concerns regarding poor communication and also said the unfamiliarity between the players and their court positioning also plays a hand in the Dons' struggles.
"We haven't been able to play with each other for a long time, to actually know each other's skills and work off of that (sic)," Craig said. "But for now, I think we're getting there, we're working on it."
De Anza currently has 11 freshman on the roster and only two sophomores. Without veterans guiding this young roster, coupled with a steep learning curve from the high school level, coach Guevarra has her work cut out for her.
"They just need a ton more knowledge, like Volleyball knowledge, playing the game a lot more," Guevara said. "Each game we're getting better, each set we're getting better, each match, each practice, just by learning."
The De Anza Women's Volleyball team square up against Canada College Colts on Friday Oct. 9 at 6:30 p.m.