About 300 citizens of Santa Clara County came together in Memorial Park to honor the United States Armed Forces in observance of Veterans Day on Nov. 11.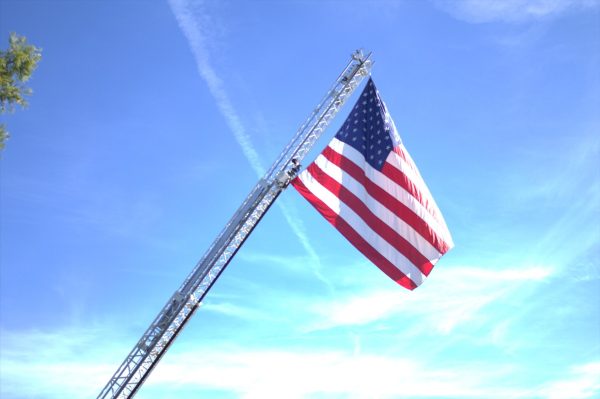 The event was sponsored by the Cupertino Veterans Memorial and featured a live band, cub scout troops, local council members, community leaders and veterans. Vietnam veteran and De Anza emeritus English professor John Swensson hosted the service.
"We have over 300 veterans at De Anza, (and) I think it is important for all students to know the sacrifice and the service these veterans have made," Swensson said.
Cupertino City Councilwoman Kitty Moore, who comes from a military family, said that honoring veterans is important as they've sacrificed a lot for us to have a good life.
Story continues below advertisement
"Veterans and their families have made incredible sacrifices for us," Moore said. "People forget that the comforts we enjoy here come at the cost of people who work 24/7 around the world to ensure our safety."
The service began with the West Bay Community Band performing the American patriotic song "God Bless America", followed by "The Star Spangled Banner," performed by the Miller Middle School choir.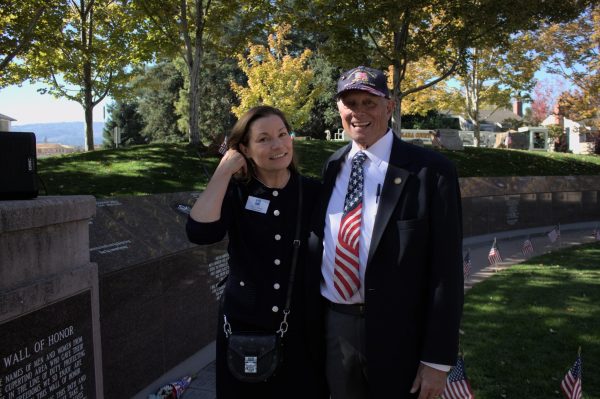 After the national anthem, Swensson invited Dennis Whittaker, a veteran of the Vietnam War, onto the podium, who gave thanks to everyone who helped contribute to the memorial service.
Whittaker also gave special recognition to California House Representative Ro Khanna, "who, with the Axelson family and Congress, coordinated the renaming of the Cupertino Post Office to the Matthew Axelson Cupertino Post Office after Congressman Khanna got the bill through Congress and signed by the president."
Matthew Axelson is a Cupertino native and Navy Seal who died in service to his country in 2005 during Operation Red Wings in Afghanistan.
De Anza President Loyd Holmes then gave a thank you speech to the veterans currently attending De Anza.
"These students truly make a difference in who we are as a college," Holmes said. "I stand here as an individual whose life has been touched by the many men and women who sacrificed and dedicated their lives to the freedoms that we all enjoy today."
Following Holmes, Francis J. Harvey, the 19th secretary of the Army, gave a speech reflecting on the meaning of the Medal of Honor after a trip to France with his wife in 2003.
"We stopped by the Normandy American Cemetery and Memorial, which overlooked Omaha Beach. We looked up and saw over 9,000 crosses and stars of David all lined up in parallel rows as far as the eye could see," Harvey said. "As we walked through the cemetery, we fully realized and appreciated the bravery, courage, sacrifice, integrity and selfless service of our military members."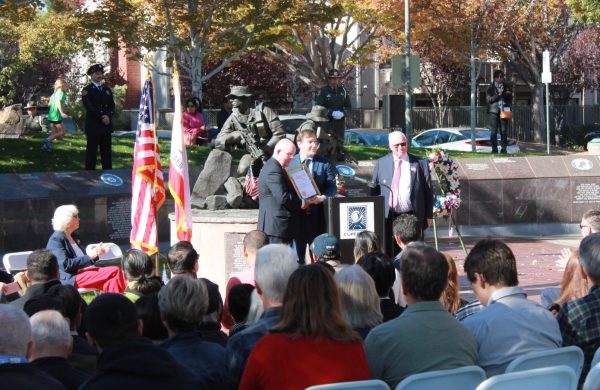 After Harvey's speech, Foothill-De Anza Board President Patrick Ahrens gave both Harvey and Donna Axelson, mother of Matthew Axelson, a plaque in honor of their service to veterans.
Axelson then came to the podium to speak of her late son and thank the Veterans Memorial.
"It continues to be a blessing for us to be a part of a community that honors Matthew and James (Suh) and all veterans," Axelson said. "To all the families of veterans, thank you for raising a Patriot."
Alan Hoefer, a Navy veteran who served as a part of the Underwater Demolitions team, the precursor to the Navy Seals, during Operation Blue Bat in 1958, then spoke of brotherhood among the Navy Seals.
"All of us who served are a part of a brotherhood," Hoefer said. "We always welcome each other and Matthew Axelson and James Suh are still a part of that. Those two men will never be forgotten."
The service was concluded with a prayer by Navy Chaplain Diana Brady:
"Now may the God of grace, mercy, and peace fill us with courage and compassion for the work that we were called to do. May we honor the courage and sacrifice of those we name today by embracing the power and the blessing of sacrificial love in our own lives. May the words of the old hymn be fulfilled in us: And when the strife is fierce, the warfare long, steals on the ear the distant triumph song, and hearts are brave again and arms are strong. And may the hope, love, joy and peace of the presence of the power of God shine on us, in us, and through us so that we might share in the fulfillment of the great promise of God. May the light shine in the darkness and the darkness shall overcome. Amen."