RAPP committee addresses numerous faculty vacancies
The Resource Allocation and Program Planning committee discussed at its March 14 meeting the understaffing at De Anza College, which has left multiple unfilled positions for custodians, clinic nurses and academic advisors.
According to the De Anza website, RAPP, formerly known as the Program Allocation Committee, handles the work previously done by the Administrative, Instructional and Student Services planning and budget teams on campus. This committee meeting was led by Erik Woodbury, one of the three RAPP chairmen. 
More information was supposed to be presented surrounding the anticipated construction project called Measure G, but this was not the case. Jennifer Mahato, director of college operations, said that President Lloyd Holmes advised her not to distribute new information due to conflicts that occurred at the board of trustees meeting the night prior.
Instead, the bulk of the discussion turned to a lack of staff and faculty members at De Anza, an issue that has been documented since  Jan. 23. The RAPP members worked on allocating funds to specific departments to fill these positions and meet the needs of De Anza students. 
The Budget Advisory Committee confirmed that there is around $1.5 million in available funds for vacant positions. Woodbury said that faculty hiring at De Anza has lagged behind.
"Faculty hiring used to be handled by the Instructional Planning and Budgeting team and they were on the way out with no new shared governance in the fall," Woodbury said. "That put us behind because instead of starting in October, we started in January."
Adam Contreras, a maintenance worker at De Anza who also serves as the campus representative in the California School Employee Association, discussed the custodian shortage.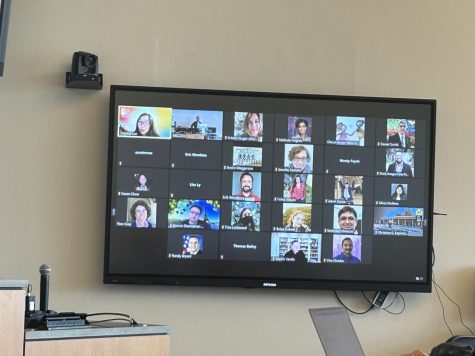 "We used to have over 100 applicants to choose from for custodians and now there's only ten," Contreras said. "I think that a lot of custodians moved away because of gentrification."
Contreras also said that he believes there have been less applicants because the application for custodians has been moved online.
"A lot of people in grounds and custodial (work) aren't really computer savvy," Contreras said. "They're not used to doing applications online." 
Izat Rasyad, 19, computer engineering major, is part of DASG and also a member of the RAPP committee. He said the future of hiring at De Anza is still uncertain. 
"There are five student representatives that are part of the committee and I'm one of them," Rasyad said. "We still haven't decided how we are going to allocate all of the money talked about today."
During their next meeting on March 21, the committee will likely address similar issues related to staffing and resources.