Planning and Development Team fields backlash against new event center
Three managing consultants from AMS Planning and Research held a Zoom meeting to collect community members' opinions for a new event center on Feb. 23.
Bill Blake, the west coast director of AMS, led the meeting. He explained that attendees could voice their opinions with the chat box, verbal comments and polls throughout the meeting.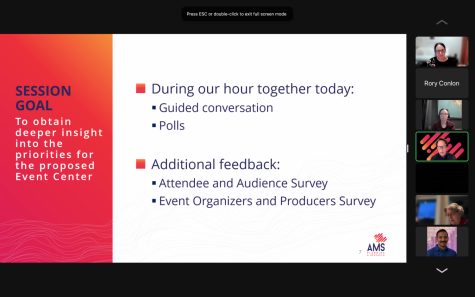 "We're here to hear your opinions, your thoughts and your priorities regarding the event center," Blake said. "Please feel free to communicate openly and share the air. We want to make sure we hear from as many of you as possible." 
In its first poll, the consultant team asked the audience to answer "yes," "no" or "not sure" to two questions. The first question asked whether the campus region needed new or more spaces for arts, cultural performances and creative activities, while the second question asked whether new or more spaces were needed for events and meetings. 
After revealing the poll results to the audience, which showed that a majority of attendees voted "yes" to more spaces for the arts and "no" to more spaces for events and meetings, Blake solicited verbal feedback. 
De Anza College student Isabel Caballero Teixeira, 25, biology major, explained why she voted "no" to more event space. 
"We really have to look at the tradeoff," said Teixeira. "Are we really committed to saying we would rather prioritize an event center over student learning space? An event center that's supposed to serve the community and not De Anza students seems counterintuitive to me." 
Carol Stanek, a longtime resident of Cupertino who has worked as a Parks and Recreation commissioner for the city, took a more positive view toward building a new event center. She recalled attending events in the now-defunct Flint Center and said that the community is "really missing something" in its wake. 
"It was an opportunity to bring the community together," Stanek said. "We want students to be involved in our communities since (De Anza) is a commuter school and it draws students from a lot of places. There is a challenge (in hosting) evening events that bring students in, and I would love for them to receive discounts to attend events because it's really important for a well-rounded education." 
Other attendees highlighted a different problem with plans for a new event center. In one of the proposed plans, the arts quad of De Anza would be demolished, displacing students to another location on campus. 
De Anza student Tahoe Roe, who was unable to provide his age and major, said displacing the arts quad would be a bad decision for students as well as the college itself. 
"There are statistics that say De Anza enrollment is falling, but enrollment in the arts is not," Roe said. "In my choral class, we're having 60 people instead of 40 in the choir, so there's a huge interest in the arts at De Anza and people love it. As my colleague Justin says in the chat box, it's the only (department) with increasing (enrollment) at De Anza right now." 
Blake then brought the group back together to complete a second Zoom poll, which asked attendees to pick up to four different purposes for a new event center from a list. The top three results were to "be a place for learning and enrichment of De Anza students above all else" (84%), "include spaces for students to rehearse, learn and create" (55%) and "be a place to see community and student performances" (52%). 
Blake called on Yuetong Zhang, a De Anza alumna who served on the campus facilities committee from 2020 to 2021, to give feedback. She said she voted for the two options centered around students and criticized some options in the planning team's poll that "make students seem like an appendage" of the college. 
"I went back to the De Anza College mission statement and the word 'student' appears in every single sentence," Zhang said. "So why is this focused on the community members and what serves money makers in this community and the people who can afford to go to these privileged conferences and performances? I think you are really forgetting the people you are trying to serve here."
Next, Blake called on Tim Shively, the faculty association president, to give feedback. Shively said that, while he values the community around De Anza, he is "very cautious" regarding plans for a new event center. 
"The way that Measure G has been presented on campus and in our district has raised questions about the representation of the facility and what needs it would fulfill," Shively said. "For example, (let's say) the event center would include instructional spaces –– in some ways that's a kind of institutional tokenism to say, 'Yeah, we'll throw in an extra classroom or two in the back, just to (claim) that it's instructionally-directed, relative to what we've said about Measure G.' But I think a better way of framing it would be an art building with a community event center in it to (emphasize) the primary focus is the students and instruction." 
Blake then pivoted into the third poll question of the meeting, which asked what activities attendees would "very much like to participate in" at the new event center. Activities for students topped the poll at 60%, followed by performances (47%) and art exhibitions (47%). 
Nicky Gonzalez Yuen, a political science professor at De Anza, said he voted for the option "other" because he thinks De Anza should be thinking "more holistically" about spending Measure G bond money.  He also criticized the "false dichotomy" set up between students and the surrounding Cupertino community.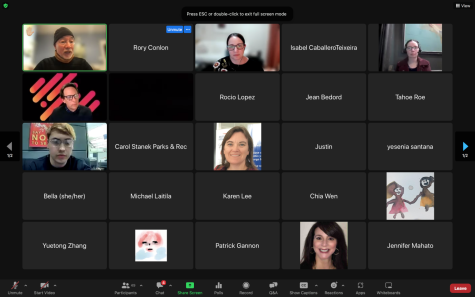 "It's a really weird dichotomy that doesn't think of the students as the community," Yuen said. "It sets up this hostile conflict between community members who then end up getting characterized as Not In My Backyard, as though they don't want the unwashed masses of students. It's unnecessary, and I think that's part of the problem with this entire planning process." 
Blake thanked Yuen for his comment. He directed meeting attendees to complete a campus-wide survey by Feb. 28. 
Amy Ben-Kiki, another AMS Planning and Research associate, ended the meeting by pointing out that this was just "one tiny part of a larger process."
"There is a lot happening right now," Ben-Kiki said. "We appreciate you taking the time to sit and focus with us tonight on this front and share your concerns with the broader project as well. We will communicate that with the college and share all the feedback."