Cooper's mom's advice: 'Follow your bliss'

2

min read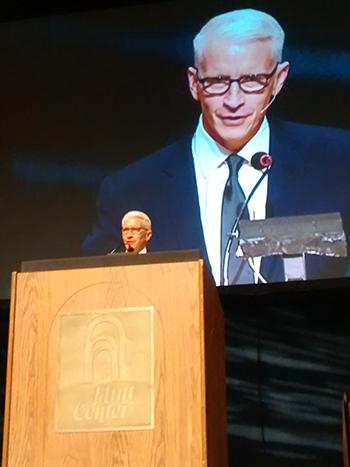 CNN news anchor Anderson Cooper spoke about his affluent upbringing, reporting in war zones and gave advice about pursuing personal and academic goals to a crowd at the De Anza College Flint Center Wednesday, Jan. 21.
Cooper discussed his affluent upbringing as the son of artist and denim jeans designer Gloria Vanderbilt, and author and screenwriter Wyatt Emory Cooper.
At age 10, his father died during open-heart surgery and at age 22, Cooper's brother committed suicide.
Cooper credited his passion for journalism in overcoming the tragedy. Through his work he has immersed himself in real-life dangers, and has reported live from war zones, violent protests, natural disasters and political events in over 70 countries.
"It really shaped my desire to go to war and the way I deal with people," Cooper said.
He said anchoring allowed him to walk in other people's shoes while being able to show and inform the public about events that are happening around the world.
Cooper said his most dangerous assignment was covering the Egyptian revolution in 2007 when he and his crewmembers were shot at and physically attacked.
"A mob attacked and they were encouraged to attack reporters and some guy came up to me and punched me in the face." Cooper said describing the encounter.
"It could have been much worse where one crew member got stabbed in the back with a screw driver."
Cooper has won eight Emmy awards and has been the lead anchor of CNN, host of "60 Minutes," "Anderson Live" and "Anderson Cooper 360," all without having a journalism degree.
Cooper graduated a semester early from The Dalton School in New York, then embarked on a trip to Africa.
He went on to attend Yale University where he studied political science and graduated in 1989.
Aside from describing his successful career, Cooper retold when he went to his mother for advice about higher education.
He asked what he should do after graduating high school, looking for a clear answer and his mother responded by saying, "Follow your bliss."
Cooper concluded the event with words of his own directed at college students and today's younger generation.
"Out-hustle everyone else around you," he said. "Work harder than the person next you."