Tent City Review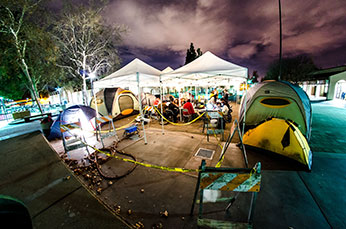 Not even rain could stop students from participating in Tent City, which ran from Feb. 24 to 27 in the main quad.
"The fact that it started raining was a problem," said organizer Karla Navarro. "For example, Students for Justice was supposed to show a film outside, but we do have alternatives like showing the film inside (the campus center). The rain isn't a major problem, and it won't stop people who feel really strongly about this."
Tent City taught students about economic inequality and gave them the opportunity to share their experiences.
"There's a lot of frustration within the student body with things like tuition costs and difficulties with the education system now," attendee Jaymar Hardesty said. "Showing the film 'Inequality for All' was very important because it got a lot of people passionate about what was actually happening."
Students filled conference rooms for the film screening of "Inequality for All."
"Conference Rooms A and B were packed for the film showing," Navarro said. "There were even people standing because it was so packed."
The amount of people who stayed overnight varied because people needed to study.
"Props to the students because it's a f—— busy week, but these students are out helping us spread awareness and supporting what we're doing," Navarro said.
Although Tent City is over, organizers hope students will stay motivated and continue to spread awareness.
"I think after the event, we're going to have a lot more support in our efforts," attendee Vinay Kowshik said. "We're going to be getting a lot more stuff done."