The steadfast tin soldier with a devoted heart for family
Even with a burn that tore his skin off, he continued to work; until the blister popped. 
He hid his pain so well that everyone only found out about it after an "ah." It was not even a groan of pain, but more of a soft sigh of disappointment, as if he was caught in an illegal act and had to stop working.
Hsin Yi Kuan, or as people call him, Thomas, is a 19-year-old Mandarin translation and interpretation major at De Anza College and a cook at Panda Express. 
Kuan said he has always wanted to be a strong, independent person, both mentally and physically.
" I (used to) want to be in the army, (I thought) being a soldier was cool (because) they're really tough; nothing can beat them," Kuan said. "I want to be that kind of (strong) person so I can take care of my family and myself."
Born in Taiwan to a Vietnamese-Taiwanese couple, Kuan's dad left him and his mom while they were on vacation in Vietnam. Kuan was two at the time; and his mom, even though she didn't know much Mandarin, was determined to come back to Taiwan to find his dad. 
Kuan then lived with his grandparents in Vietnam, and couldn't go to school for five years because of the complex paperwork. 
He didn't see his mom for a long time, but worse, he wouldn't see his dad ever again. Kuan said even when his mom filed for divorce, his dad never appeared at court. 
At 8-years-old, he returned to Taiwan for school. 
"I sat there in the front row of class, and my tears were pouring because I couldn't understand what my teacher said (in Mandarin)," Kuan said. "I went to classes after school and classes for adults at night every single day for two months to finally come to some understanding of the language." 
Kuan had to take two grades lower than his age because of the lack of formal education when he was a child, but he got through the tough times. 
At 15-years-old, his mom left for America and remarried to his stepfather. Kuan lived alone in Taiwan, and recalled that his life was "normal in the morning but became overwhelmingly lonely at night."
In order to distract himself from the situation, he took up the hobby of weightlifting.
"Weightlifting is exhausting, but it helps me in the way that I will be too tired to overthink when I get to an empty home afterward," Kuan said. "And I think I was pretty good at it too, I got nominated to compete in the (Pingtung 2020 National High School Athletics) contest."
Kuan couldn't join the competition because of the pandemic, so he instead prepared for a different journey: resetting his life in America.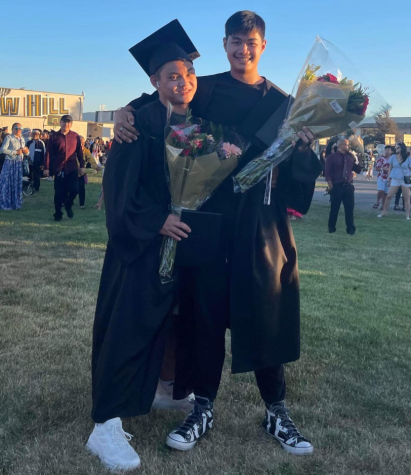 Kuan came to California by the time he was 17, reunited with his mom and embraced his new family with his stepfather and half-brother. He described his life as "noisy with a toddler and mom yelling, but better than being alone."
With his mom staying at home to care for his younger half-brother, Kuan took it upon himself to work full time, and has worked his way up to the main cook position at Panda Express. Along with his stepdad, they are the breadwinners for the family. 
"(He shared with me that) he wants to go on vacation, but (hesitates because) he wants to make sure he has enough money to provide for his family," Kuan's general manager, Muhammad Madraswala, said. "It shows to me that this person is very family-oriented and even though not all his family is related, he wants to do something for them."
Jason Ma, 18, engineering major and Kuan's best friend since high school, complimented Kuan's hard work and maturity, saying he's always looked up to Kuan as an older brother.
"When we first became friends, I wondered why he always chose to carry his struggle alone, until he shared about his family," Ma said. "I have never had so much respect for a friend, (someone with) a mature manner, and for who he is today even at such a young age."
Rather than allow childhood roadblocks to define him, Kuan instead was sharpened by them and grew fiercely to fight for his loved ones.
"I was still thinking about one day joining the army, or maybe coming back as a weightlifting champion, or even becoming a chef at Panda Express," Kuan said. "My biggest privilege is that I'm young, and I can do everything as long as I try."