Shravya Patibanda: Cupertino musical prodigy in the making
Sixteen-year-old Shravya Patibanda may look like a normal student on campus, but she is not your typical college pupil. Starting music classes at the early age of six, Patibanda has already gained success in her musical journey.
Patibanda attends Monta Vista High School and is dually enrolled at De Anza. Patibanda started singing at four years old and started devoting herself to writing music when she was 12. After just two years of being involved in the music industry, Patibanda has created over ten songs.
"I would describe my style as a mix of alternative and Indie Pop," Patibanda said. "I think I have a very unique music sound."
She debuted her first single, "Running," which was produced by her 20-year-old sister Shreya Patibanda, in 2020. Patibanda said that her sister had a huge impact on her musical process because of Shreya's heavy musical  interest.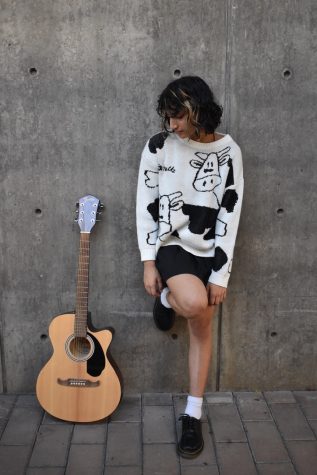 "I think that Shravya learned a lot about the technical side of music through me, but she has always been very driven since the beginning," Shreya said. "I was definitely impressed when she learned how to play the guitar on her own through YouTube without any lessons."
Patibanda not only knows how to play the guitar, but she can also play the clarinet and the piano, making her a versatile artist. She says one of her goals is to be signed to a record label so that she can release her first album.
"My biggest goal would definitely be to eventually sell out Levi's Stadium," Patibanda said. "That has to be my 'I made it moment'.
Patibanda has already committed to becoming a better artist by attending Berklee College of Music in Boston, Massachusetts this past summer for one of their provided programs. There she performed at an open mic and learned more about stage presence and technique.
Patibanda's mother, Medhuri Dhulipala, has watched both of her daughters embark on their journeys.
"I have mixed feelings about being a musician," Dhulipala said. "It's scary for her to be in music, but I'm very proud and I will support whatever my children want to do."
Shravya Patibanda's friends in high school can already see the potential in her as well. Arshia Rikh, another Monta Vista student, can strongly attest to Patibanda's passion and potential.
"Music reveals more about her than what she can tell you herself," Rikhi said. "She is always looking for opportunities to promote herself or to network with others when she gets the chance."
Everyone who knows Shravya Patibanda can tell she has a great deal of passion and potential on top of all of her impressive previous accomplishments. Be on the lookout for more singles from Shravya in February as she plans to release new music for her audience.
"For anybody that wants to be an artist I would say to have faith," Patibanda said. "Don't be scared to reach out to people you may need and be consistent."
To listen and follow her musical journey, Patibanda can be found on Spotify @Shravya and Instagram @_._.shravya._._.