Carolyn Wilkins Santos: A Catalyst for Educational Success
The prestigious white-columned building on campus is much more than its century-old windows and walls. The California History Center's CHC mission of shedding light on De Anza College's and California's past continues to thrive because of one woman, Carolyn Wilkins-Santos. 
Because she is a former De Anza Intercultural and International Studies Division instructor and previous dean of Social Sciences and Humanities for 17 years, recent retiree Carolyn Wilkins-Santos' footsteps can be traced not only throughout the CHC, but across the entire campus.
Beginning her teaching career at De Anza by filling in for instructors, Wilkins-Santos spent her time both teaching and serving as the affirmative action leadership chair to infuse multiculturalism into classroom curricula.
"The dynamics of cultural values and ideas are, the way people think about and experience things, which brings to bear a richer environment," Wilkins-Santos said. "It's active inclusion — diversity is active inclusion."
After three years as the chair, Wilkins-Santos went into full-time teaching in the Social Science and Humanities division and later immersed herself in deanship. 
Inspired by her past activism as one of the few African American college students to help desegregate the University of Texas at Austin, it is no wonder Wilkins-Santos created programs for underrepresented and underprivileged students at De Anza. 
According to the California History Center's project "Witnessing History," which shares testimonies of civil-rights struggles, Wilkins-Santos is a continuation of "her family's heritage of civic engagement and civil rights work."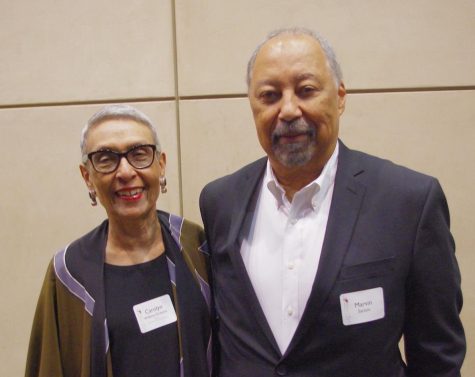 At De Anza, Wilkins-Santos established various unique leadership roles such as pioneering student-faculty educational success and equity programs through Math Performance Success (MPS) and Conversation, Application, Reflection (CAR). 
Wilkins-Santos founded MPS, which specifically supports African American and Latino students, by dedicating a counselor to math classrooms who would support them throughout their educational journeys.
In addition to giving students in-class support, MPS also recognizes the challenges preventing students from reaching their potential in math-based courses. According to MPS Counselor David Coleman, the program helps acknowledge obstacles such as low income and lack of emotional and mental support, as well as institutional constraints such as gatekeeping.
Coleman said that "gatekeeping" negatively impacts students of particular demographics and races by controlling their progress in education because of systemic policies. This often left students without the resources to master class materials, leading them to give up on STEM-based majors. 
"She didn't see it as one or the other," Coleman said. "She set out on the way to support students' mastery of this material, limiting the roadblocks and hurdles that were part of the institutional gatekeeping and to incorporate counseling support for the students to assist with educational planning."
Former De Anza student and current MPS Counselor and Coordinator Melissa Maturino call herself a "product of MPS." Maturino said that math was never her strong suit, but the support she gained from joining MPS enabled her to pass statistics, which she proudly considers a lifelong accomplishment.
As a visionary, Wilkins-Santos said "simplicity is powerful," with this motto she formed practical yet creative educational programs to emphasize diversity and inclusion.
In 2006, Wilkins-Santos also spearheaded the program CAR, to benefit both students and teachers by directly engaging faculty through active learning and experimentation. 
As dean, Wilkins-Santos chose readings of multiculturalism and cultural pluralism for various divisions to read and have a conversation about, so as to apply their learnings in their classrooms each quarter and reflect on how it worked. Though created specifically for the Social Science and Humanities department, the program didn't exclude others from taking part. 
"I wanted faculty to get a broad picture of our students that we work with and how we can effectively work with them," Wilkins-Santos said. "The vision was to enrich students and help us teach better."
Instructor and Co-Chair of the De Anza Humanities Department, Lori Clinchard, looked back on her experiences with CAR, recalling feeling like a student again while receiving informal mentorship from Wilkins-Santos. 
"She believed in the value of self-improvement for teachers for the benefit of the students," Clinchard said.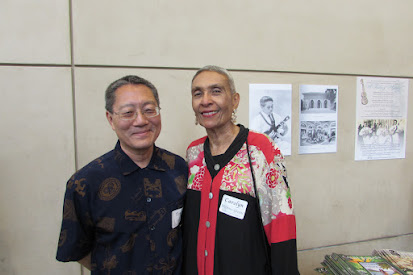 According to Tom Izu, executive director emeritus of the California History Center, Wilkins-Santos remains enduring support for the college's legacy through the California History Center. 
The center has become a platform for underrepresented voices to showcase their stories and work. According to the instructor and Chair of the Geography Department, Purba Fernandez, Wilkins-Santos "understood that the arts and humanities were integral to a holistic education."
Today, Wilkins-Santos continues to sit on the board of the CHC, helping it stand the test of time and financial struggle. 
"She was always there to support and advise me when I most needed it," Izu said. "(She has shown) me much warmth and kindness during times we faced steering the CHC."
To successfully make a difference, her compassion and care "allows her to go into difficult situations and talk with and work with a variety of people," Clinchard said. "She was able to push forward the cause of underserved students in a way that allowed others not to get defensive —she pushed, but she didn't push people away."
As an instrument for campus programs, Wilkins-Santos left De Anza with the memorable tradition known as the "Taste of History" fundraiser to raise funds for the CHC. What started off initially as a showcasing of art and CHC exhibits by students has now become a community event of impressive art forms ranging from singing to interactive multimedia.
Though Wilkins-Santos is no longer at De Anza, she is forever embedded in the lives of faculty members in every division and department. 
Izu recalls Wilkins-Santos having an "air of toughness and single-mindedness that was intimidating to me at first," but it was "a strength forged through years of navigating through the racism and sexism she faced on the road to building a career in higher education." 
"Her single-mindedness was her powerful determination to never back down in the fight for fairness and equality, which was born out of her activism as a youth in the Civil Rights Movement," Izu said.
Elbows deep in the enrichment of those around her, Wilkins-Santos is best thought of by Clinchard as, "a really wonderful person — she did a lot in her life to make things better for other people. (She) enjoys people and people can feel that and can tell that she cares. She has always been willing to work hard to help."