Tuesday evening food trucks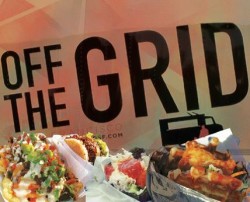 Off The Grid food trucks served up more than expected at Whole Foods' parking lot Tuesday, May 14.
Off The Grid is a festival of food trucks that meets every Tuesday from 4 p.m. to 9 p.m. at the Whole Foods' parking lot across the street from De Anza College.
Despite the 90-degree heat according to The Weather Channel, the festival brought out around 200 people who relaxed in the shade and chose from a variety of foods including country style barbeque, sushi, Mexican food and lobster dishes.
Plenty of chairs provided a place for friends and family to gather and the soft sound of live acoustic country-jazz music hung in the air alongside the smell of barbeque and fresh bread.
A long line stretched out in front of one of the trucks, Capelo's Hill Country BBQ, with many of the attendants waiting as long as 20 minutes in line.
"My goal is to go to the place with the longest line," said Allen Tran, 19, English major. "It has to be the longest line for a reason."
Tony Fong, a server at Capelo's, said it was their first time attending Off The Grid's Cupertino location, which was a great success. Capelo's served around 100-150 people, and had to clean up early after running out of meat to barbeque.
Many students from De Anza as well as people who work in offices around the area enjoyed having the food trucks around.
"[It's] awesome. That's all," said Nique Mactal, 21, nursing major, who enjoys the food trucks since he said there aren't very many food places around De Anza.
The trucks primarily operate in San Francisco, but come from locations throughout the Bay Area according to Off The Grid's website.
"The trucks usually rotate and go to different locations to keep the food different every time," said Henley Ng, an Off The Grid mobile ambassador.